Steampunk is a subgenre of science fiction that combines elements of the 19th century with technology that is powered by steam. It is often characterized by its retro-futuristic aesthetic, which features elaborate machinery, airships, and other technological wonders. Steampunk artists are responsible for bringing this unique vision to life. They create illustrations, paintings, sculptures, fashion accessories, clothing, and other works of art that capture the imagination of steampunk fans around the world.
There are many talented steampunk artists working today. Some of these artists are self-taught, while others have formal training in art or design. They come from all over the world and work in a variety of styles. Their work is often elaborate and intricate, and it can be both functional and decorative. In addition to creating art, steampunk artists also build functional objects, such as furniture, jewelry, and musical instruments. They often use recycled materials and reclaimed objects in their work, which gives it a unique and one-of-a-kind look.
Steampunk artists are creative individuals who take inspiration from the Victorian era and use their engineering skills to create amazing works of art, fashion, and technology. They are constantly coming up with new and innovative ways to blend the old and the new, and their work is often both functional and decorative.
Some of the most common projects that steampunk artists work on include:
Prop creation: Steampunk artists often create props for movies, television shows, and theater productions. These props can be anything from simple goggles to complex robots.
Fashion design: Steampunk artists also design and create clothing, jewelry, and other accessories that reflect the steampunk aesthetic. These pieces are often made from recycled materials and reclaimed objects, which gives them a unique and one-of-a-kind look.
Technology: Steampunk artists also build their own machines and devices. These machines can be anything from simple clocks to complex computers.
Art: Steampunk artists also create paintings, sculptures, and other works of art that reflect the steampunk aesthetic. These works often feature steam-powered machinery and other elements of the Victorian era.
Steampunk artists are a diverse group of people with a wide range of skills and interests. They are united by their love of the steampunk aesthetic and their desire to create something new and innovative.
Here are some of our recommendations for some amazing steampunk artists around the globe.
Steam Forged Studios: A Steampunk Artist's Workshop
Steam Forged Studios is a metal workshop located in Conover, North Carolina. It is owned and operated by Tim Martin, a self-taught metalsmith with a passion for steampunk. Steam Forged Studios is a great resource for anyone who is interested in steampunk props and accessories.
They offer high-quality, handmade props that are both functional and aesthetically pleasing. Steam Forged Studios specializes in the fabricating, modifying, and production of quality Steampunk, Anime, Fantasy, and Sci-Fi props, weapons, and items. They work with steel, aluminum, brass, copper, plastics, glass, and many other materials to create these products.
Steampunk Workshop: A Resource for Steampunk Artists
Steampunk Workshop is a blog and website created by Jake von Slatt, a self-described "tinkerer, maker, and general do-it-yourselfer." The workshop is dedicated to all things steampunk, from fashion and accessories to technology and art.
The website features a blog where Jake von Slatt shares his projects and ideas and a forum where visitors can discuss steampunk and share their work. In his blog, Jake von Slatt shares the methods he uses when building a piece of steampunk art. He provides a valuable resource for anyone interested in steampunk and even shares projects from other steampunk artists that are fascinating. The website and workshop offer a wealth of information and inspiration for those who want to learn more about this fascinating subculture.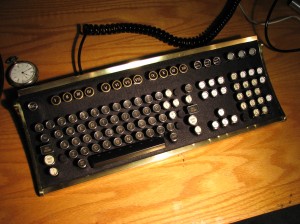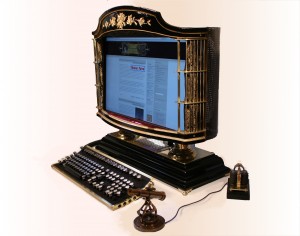 Here are some of the things you can do at Steampunk Workshop:
Learn about the history of steampunk
Find inspiration for your own steampunk projects
Meet other steampunk enthusiasts
Collaborate with other tinkerers
Share your own work
Progetto Steam: A Steampunk Armory
Progetto Steam is a captivating steampunk project by Davis McGoven aka Davide Tieri that offers a unique blend of steampunk artistry and craftsmanship. Each piece is meticulously handmade by McGoven himself, who draws inspiration from the intricate mechanisms and Victorian aesthetics of the steampunk genre.
The collection features a diverse array of items, from functional accessories to decorative pieces. Among the highlights are the intricate pauldrons, gauntlets, and armors, all adorned with cogs, gears, and other steampunk embellishments. These pieces are not only visually stunning but also surprisingly wearable, making them perfect for cosplay or steampunk enthusiasts.
McGoven's passion for steampunk is evident in the attention to detail that goes into each piece. He uses a variety of materials, including leather, metal, and wood, to create intricate designs that are both functional and aesthetically pleasing. The craftsmanship is superb, and the pieces are built to last. Here are some of the key features of Progetto Steam:
Unique and original designs: McGoven's steampunk pieces are designed and handmade by himself, ensuring that each piece is one of a kind.
High-quality craftsmanship: The pieces are made from high-quality materials and are meticulously crafted to ensure durability and longevity.
Wide variety of items: The shop offers a diverse selection of steampunk items, including pauldrons, gauntlets, armors, jewelry, accessories, and decorative pieces.
Attention to detail: Each piece is adorned with intricate details that add to the steampunk aesthetic.
Excellent customer service: McGoven is committed to providing excellent customer service and is always happy to answer questions or assist with special requests.
Progetto Steam is a true gem in the steampunk community. McGoven's creations are a testament to his creativity, skill, and passion for the genre. If you are looking for something special, Progetto Steam is the place to find it.
Anna Dabrowska: A Steampunk Visionary
Anna Dabrowska, better known by her artist name Finnabair, is a renowned mixed-media artist who has made significant contributions to the steampunk genre. Her artwork, characterized by its intricate details, vintage aesthetics, and whimsical atmosphere, has captivated steampunk enthusiasts worldwide.
Dabrowska's exploration of steampunk began in the early 2000s when she became intrigued by the genre's unique blend of Victorian aesthetics, science fiction, and technology. She began incorporating steampunk elements into her artwork, such as clockwork gears, metal embellishments, and aged papers. Her steampunk pieces quickly gained popularity, earning her a reputation as a leading steampunk artist.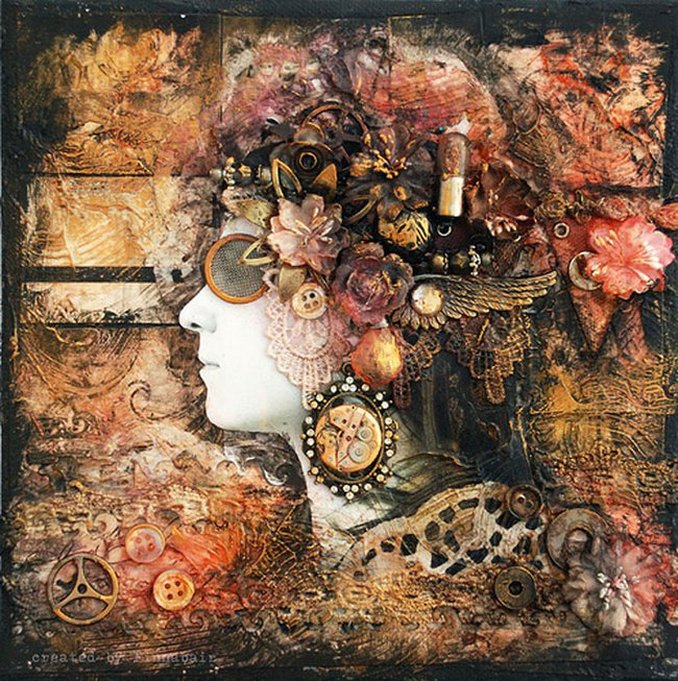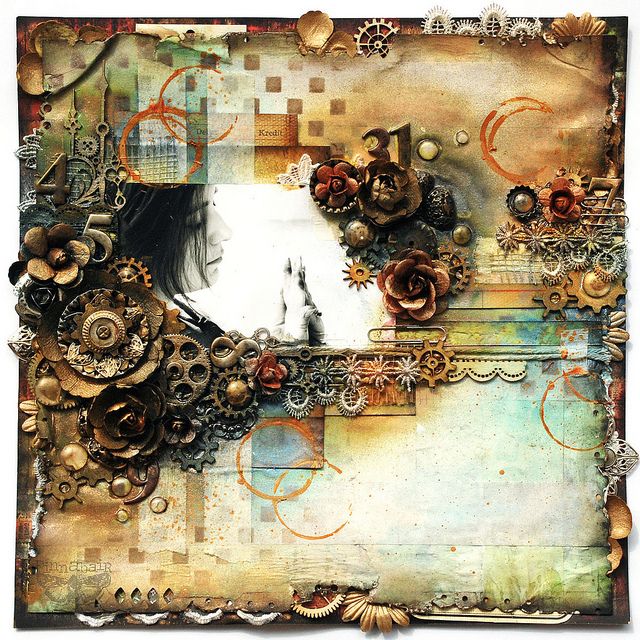 Dabrowska's steampunk artwork is characterized by its attention to detail and use of unconventional materials. She often incorporates found objects, such as vintage watch parts, keys, and buttons, into her pieces, giving them a sense of authenticity and history. Her use of metallic paints, oxidized finishes, and distressed textures creates a sense of age and wear, adding to the steampunk aesthetic.
Dabrowska's work has had a significant impact on the development of steampunk art. Her unique style has inspired countless steampunk artists to create their own masterpieces. She has helped to broaden the boundaries of the genre, demonstrating that steampunk can be expressed in a variety of ways. She offers a range of mixed media-based classes in collage, artistic scrapbooking, art journaling, and more. She truly enjoys teaching and her classes focus not only on showing techniques, ideas, and tricks but also on spreading her love and enthusiasm for arts and crafts as she is a believer in the therapeutic and liberating power of creativity.
James Ng: An Inspiration For Steampunk Artists
James Ng is an award-winning freelance concept artist and illustrator, known for his "Imperial Steam & Light" Chinese steampunk illustration series. His intricate and imaginative artwork transports viewers to an alternate world where Chinese culture and steampunk technology seamlessly blend.
Ng's fascination with art began in his childhood when he would spend hours trying to bring his fantastical imagination to life by drawing and painting. He was drawn to the intricate details of machinery and the beauty of traditional Chinese art. This combination of interests eventually led him to create the "Imperial Steam & Light" series. The idea behind the series is based on the possibilities of a world where the Imperial Chinese were the first culture to have gone through an industrial revolution, changing the rest of history and technology as well as what we now consider a model for a modern city.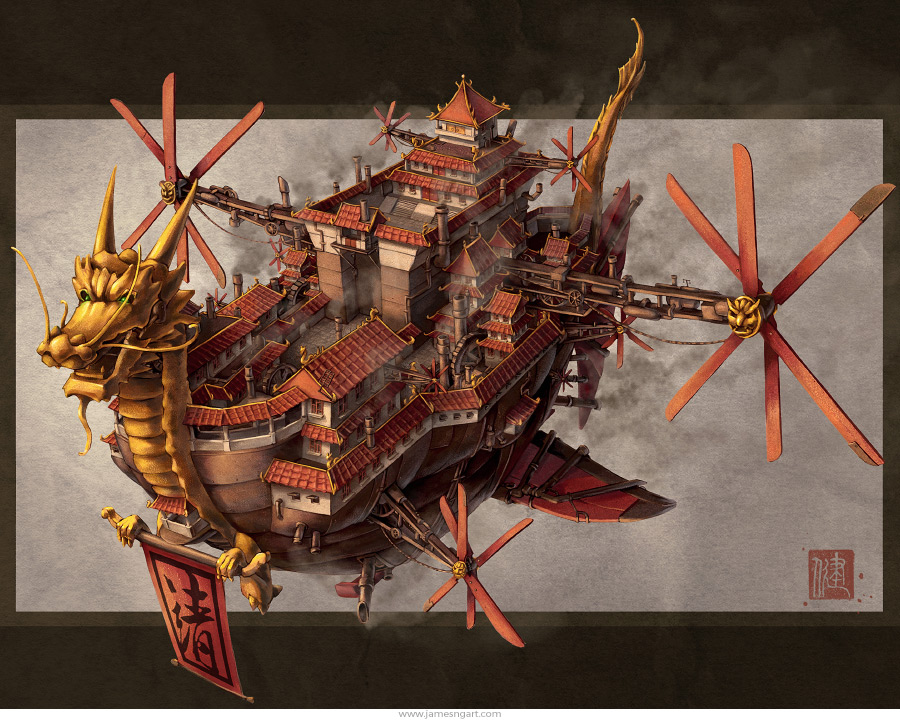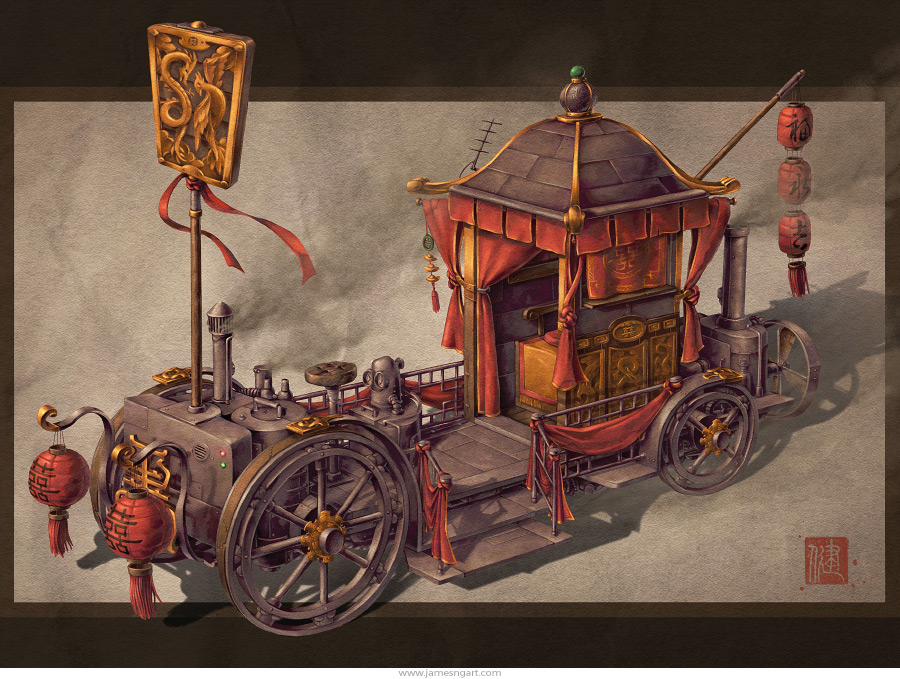 The "Imperial Steam & Light" series features a variety of subjects, from steam-powered dragons to clockwork lanterns. Ng's paintings are filled with intricate details and vibrant colors. He uses a variety of mediums, including watercolor, acrylics, and digital painting, to create his stunning pieces. Ng's artwork has been exhibited in galleries and museums around the world. He has also received numerous awards for his work, and his artwork has been featured in numerous publications and online platforms.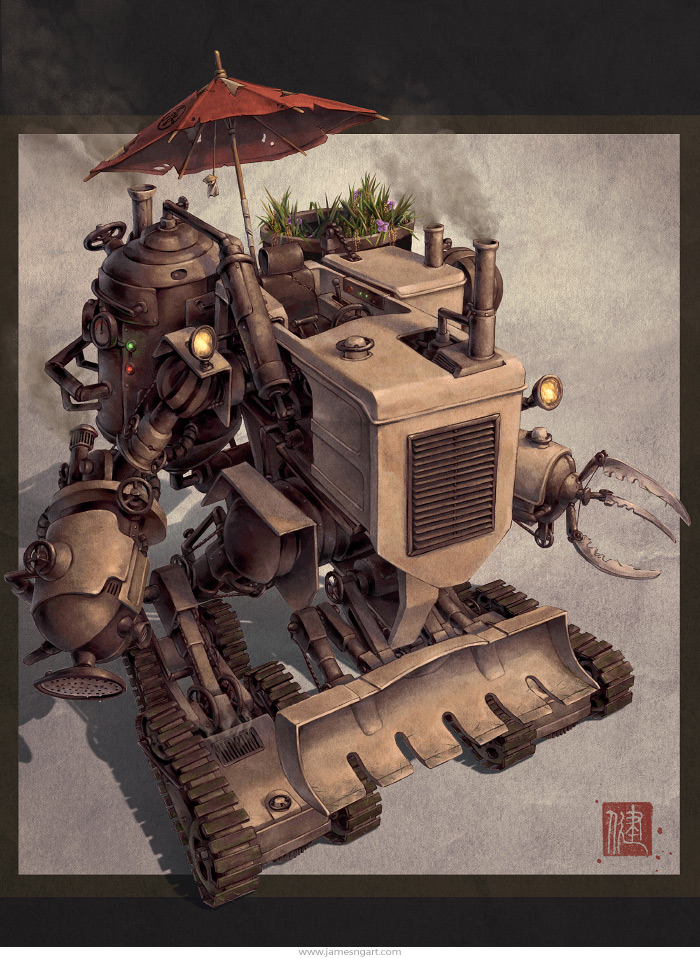 In addition to his artwork, Ng is also a talented storyteller. He is currently developing a comic book series based on the setting of the "Imperial Steam & Light" series. He is passionate about sharing his stories with others and believes that art has the power to inspire and educate. James Ng is a true visionary in the world of steampunk art. His "Imperial Steam & Light" series is a unique and innovative contribution to the genre. His work is a celebration of Chinese culture and a testament to the power of imagination. He is an inspiration to aspiring steampunk artists around the world.
Thomas Willeford: A Steampunk Renaissance Man
Thomas Willeford is a multifaceted artist who has made significant contributions to the worlds of steampunk, fantasy, and art education. His work, spanning over two decades, is characterized by its intricate craftsmanship, bold designs, and imaginative use of materials. He is the founder of Brute Force Studios, a workshop and gallery in Harrisburg, Pennsylvania, where he creates his unique pieces and teaches workshops to aspiring steampunk artists.
Willeford's steampunk creations are often inspired by Victorian-era designs, incorporating gears, cogs, and other industrial elements into wearable pieces of clothing from the era. His attention to detail is evident in the intricate engravings, rivets, and weathered finishes that adorn his pieces, creating a sense of authenticity and timelessness.
He may be best known for creating the mechanical steampunk arm worn by Nathan Fillion in episode 3.4 of the television series Castle. His Iron Man 1889 costume won the Comic-Con International 2014: Costume Contest on the Marvel Stage.
Thomas is a design contributor to Lantern City, a television show planned by Bruce Boxleitner. His leatherwork has appeared in print, in Anatomy of Steampunk. His work has been shown in art shows and museum exhibitions, including the University of Oxford's Museum of the History of Science and at the Hangaram Design Museum the Seoul Art Center IDA in Seoul, South Korea. He has written two books as educational projects – Steampunk Gear, Gadgets, and Gizmos: A Maker's Guide to Creating Modern Artifacts (2011) and The Steampunk Adventurer's Guide: Contraptions, Creations, and Curiosities Anyone Can Make (2013).
Steampunk Artists: Steampunk Renovation By Attila
Steampunk Renovation specializes in transforming vintage objects into extraordinary steampunk creations, each piece imbued with a unique personality and a touch of whimsy. At the helm of Steampunk Renovation is Attila, a skilled artisan with a passion for steampunk aesthetics and a knack for breathing new life into discarded treasures. Attila's creative process involves meticulously selecting vintage objects, such as old cameras, typewriters, telephones, and other oddities, and reimagining them as functional steampunk masterpieces.
With meticulous attention to detail and a keen eye for design, Attila transforms these objects into intricate works of art. He incorporates gears, cogs, pipes, and other steampunk elements, carefully blending them with the original design to create a harmonious and visually stunning aesthetic. The result is a collection of unique pieces that are both functional and aesthetically pleasing.
The artist's collection features a diverse range of steampunk creations, from intricate steampunk clocks and jewelry to functional steampunk keyboards and mouse. Each piece is meticulously crafted and hand-finished, ensuring its individuality and quality. Attila also welcomes custom requests, allowing enthusiasts to collaborate with him to create personalized steampunk masterpieces that align with their unique visions.
Steampunk Renovation has garnered a loyal following among steampunk enthusiasts, drawn to its unique style, and high-quality craftsmanship. Attila's dedication to his art is evident in the exquisite details and intricate designs of his creations. His passion for steampunk is infectious, inspiring others to appreciate the beauty and ingenuity of this genre.
RustyPunkEtsy: Where Art Meets Recycling
RustyPunkEtsy is a beacon of creativity and sustainability where Natalie displays her unique steampunk creations, crafted from recycled materials, as a testament to her artistic talent and environmental consciousness.
Natalie's journey into steampunk began with a fascination with vintage objects and a desire to give them a new purpose. She found herself drawn to the intricate mechanisms and weathered surfaces of old machinery, recognizing their potential for transformation. With a passion for art and a commitment to sustainability, she embarked on a mission to create steampunk masterpieces from discarded treasures.
At RustyPunkEtsy, you will find a diverse collection of steampunk pieces, each one carefully crafted from recycled materials. Natalie transforms old musical instruments, gears, pipes, and other found objects into stunning steampunk masterpieces. Her creations are characterized by their intricate details, rustic charm, and unique personalities.
Natalie's creative process is fueled by her resourcefulness and imagination. She approaches each project with an open mind, allowing the materials to guide her designs. She usually works on musical instruments and frames to create some amazing industrial abstract art. She often incorporates elements of nature, such as wood, stone, and leather, into her pieces, creating a harmonious blend of steampunk and organic elements.
Let us know in the comments what you think about these amazing steampunk artists and their art.