Steampunk is a unique genre of science fiction that has inspired many people to embrace this genre because of which steampunk has exploded into a huge cultural phenomenon. From decorative aesthetics to cool costumes steampunk fans love it all. Steampunk has also inspired several artists to use Victorian aesthetics of this genre and create functional designs which can be used every day. This holiday season brings an opportunity for everyone to surprise their loved ones with amazing steampunk gifts. Steampunk designs are made using creative and innovative ideas which leave everyone in awe when they set their eyes upon them. Here are some of our recommendations for this holiday season.
Steampunk gifts 3d printed hoodies
These amazing hoodies are made using breathable and comfortable polyester material which is soft to touch and free breathing. The hoodie is stitched using an ergonomic flat sewing design and stitch reinforcement.
This sweater has a drawstring hood, a large front pocket, which is perfect for carrying small objects such as mobile phones and wallets. The first hoodie has a mechanical octopus design in the center with gears designed at the bottom and on the sleeves. The second hoodie has the design of a mechanical automaton with visible wires and gears.
It is suitable for all weathers and can be used on occasions such as Halloween, Christmas, or for day-to-day use. These hoodies can be availed from the Amazon store.
Double barrel Victorian brass telescope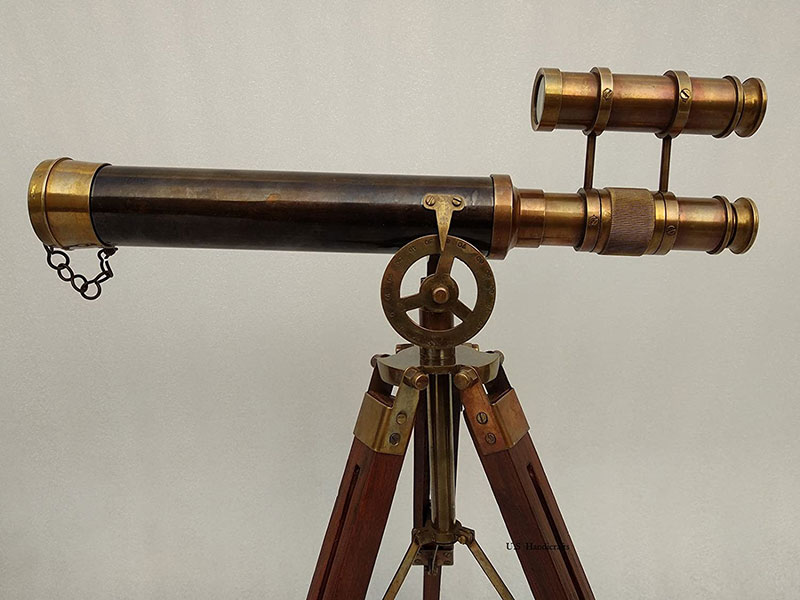 This is an amazing double-barrel nautical telescope that is made using high-quality brass and polished to provide an antique finish. The telescope also comes with a tripod stand which is made using Indian rosewood.
The length of the telescope is about 36cm and the height can be adjusted using the tripod stand between 32cm to 44cm. This antique-looking brass telescope can be an excellent gift for your loved ones who are maritime, nautical, hiking, or outdoor enthusiast.
This vintage-looking brass telescope can be the centerpiece of any nautical collection and can be availed from the Amazon store.
Steampunk gift pens and dual gear pen holder
These amazing steampunk pens and the holder are hand-cast using crushed stone and then bonded with high-quality designer resin which makes it very durable. Each part of the pen and the pen holder are designed and finished by hand by some of the most amazing designers at Design Toscano.
The pens will elevate your inventive workspace by adding a most machine-age element of half a dozen all unique, retro mechanical pens ready to lend their industrial Steampunk style. And the pen holder will provide machine-age slots in the vintage, double mechanical dual gear holder making your workspace a true symbol of retro-futurism style.
Steampunk gearwork mechanical dragon mug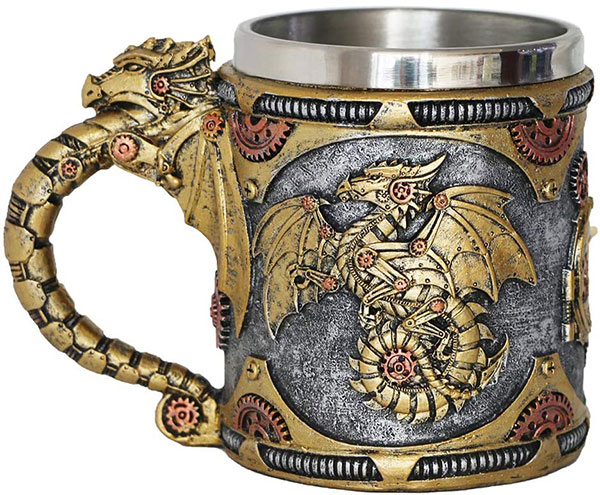 This is a retro golden mechanical Fire Wheel dragon design mug that features antique gears, pipes, and other steampunk components sculpted and painted on the surface of the mug. The intricate details on the handle and body of the mug are truly eye-catching.
This Renaissance steampunk mug is 4.3″ tall, 5.7″ long and can hold up to 14 ounces of your favorite beverage, and can be an excellent choice for steampunk-themed parties. It works well for drinking beer, wine, hot coffee, milk, or tea. The bottom is covered in felt so that it doesn't scratch the surface of the table. Apart from that this amazing mug can also be used as a decorative item as it is eye-catching and can be an excellent conversation starter.
The dragon coffee mug is the ideal choice of gift for your family, friends, colleagues, etc. Perfect gift for Steampunk, GOT fans, medieval & sci-fans, or fantasy art collectors.
Metal steampunk dice set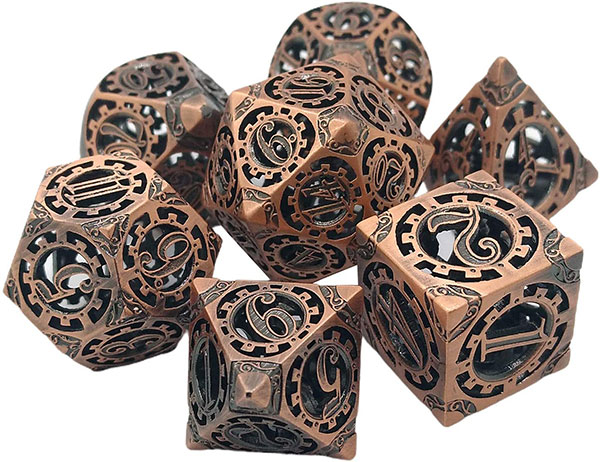 These amazing dice set are made from the copper material and casted with hollow ornamented digits. This dice set is universal and can be used in all roleplaying and tabletop games (like Pathfinder, DnD 5E etc.) .
The dice set features a classic steampunk theme design. The dice itself is hollow and the numbers on the dice are centered between small gears which provide a subtle but unique steampunk aesthetic.
The set includes comes with seven polyhedral dice(d4, d6, d8, d10, d12, d20) which will be suitable for any RPG or tabletop games.
Steampunk gifts butterfly necklace
This is a lovely, elegant, metal alloy necklace in silver and gold tones. The necklace has an articulated, bronze, filigree base, with golden, silver, and bronze cogs and gears, and silver wings. The centerpiece of the necklace features a lovely golden filigree butterfly placed upon a filigree silver butterfly.
This beautiful, original, item has been finished with silver and gold miniature flowers and a selection of elegant rhinestone crystals for a sparkly finish. The necklace has been individually designed and hand-crafted in the UK by leading Steampunk designer Philippa Lusty and can be an excellent gift for admirers of steampunk and steampunk fashion.
Hand-made zippo lighter
This is a retro lighter designed and manufactured based on ZIPPO. The entire production process is done manually and the production process is cumbersome and requires patience. The metal parts of each part are made of brass and need to be confirmed repeatedly before completing the welding.
The design features gears and pipes. The gears attached are movable which adds to the aesthetics of the lighter.
No glue was used in the production process, and each part was welded to the lighter by hand. Therefore, each of them is very strong. The design of the lighter can be modified slightly upon contacting the seller.
Steampunk gifts fireman alcohol dispenser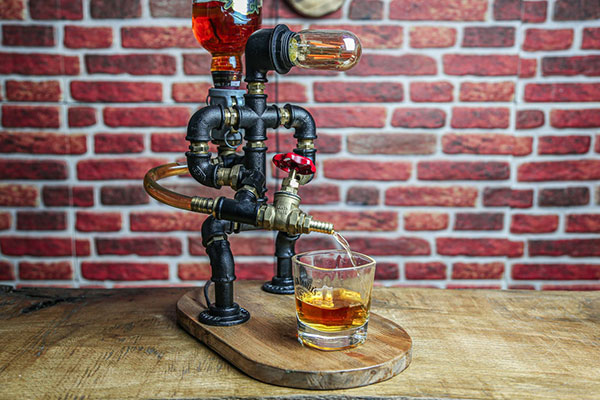 This steampunk firefighter is a handcrafted industrial whiskey dispenser. The firefighter comes with an Edison lamp, bottle holder, and pipe dispenser. The entire piece is made using high-quality metal which makes it quite strong and sturdy.
This firefighter can be used during parties to serve alcohol or it can also be used as a decorative item for your steampunk collection.
This can be one of the best steampunk gifts to surprise your loved ones with, this holiday season.
If you are looking for steampunk puzzles and any other steampunk related DIY art you can click here.