Halloween is a popular celebration in many countries all over the world. People wear amazing costumes and attend parties, festivals, and other amazing events. Children are also known to venture into the neighborhood, in their beautiful costumes, for 'trick or treat' and other amazing activities. Halloween costumes were traditionally designed after iconic mythical monsters such as vampires, werewolves, ghosts, witches, sorcerers, etc. As time passed the costume designs have evolved to include popular fiction characters, comic book characters, ninjas, and many more. This day is an opportunity for any steampunk enthusiast to wear an amazing steampunk Halloween costume and bring out their inner steampunk persona to life.
Steampunk Personas for Halloween
Steampunk costumes are based on the Industrial era and include clothing and fashion inspired by that era. Long overcoats, tweeds, suspenders, vest coats are some common apparel for men. Corsets, blouses, bustle skirts, are some common clothing for women. There are several different steampunk personas that you can create. Steampunk explorer, pirate, mad scientist, apocalyptic warrior, fleet admiral are some of the best examples. Each persona is different from the others and requires specific apparel and accessories to complete the design. For example, carrying a sword and a gun and wearing an eyepatch can bring a lot of character to a pirate persona.
Steampunk Halloween Costume High Seas Pirate

This amazing costume is a perfect foundation to design your steampunk pirate persona. This Steampunk Halloween Costume consists of a complete 6-piece pirate clothing which includes a hat, a shirt, a waistcoat, knickers, a belt, and boot tops.
The jacket is awesome and the material is really good. The shirt is made using thin material and provides good ventilation. You can accessorize this costume with a ray gun, a sword, and a steampunk monocle to complete the pirate persona.
Check out this article to add unique designs to your steampunk pirate costume.
Steampunk Commander Costume

This is an amazing steampunk Halloween costume for anyone looking for a steampunk admiral persona. This costume comes with a hat, pair of goggles, shirt with attached vest, armband, gauntlet, pants, boot tops, and scarf.
The vest has an amazing gear pattern on the top right shoulder and the buttons are also in the shape of small gears. The shirt has a chain strung to two gear-like buttons on the left sleeve. This persona can be completed with a leg harness and a gun which are sold separately at the same store.
Steampunk Explorer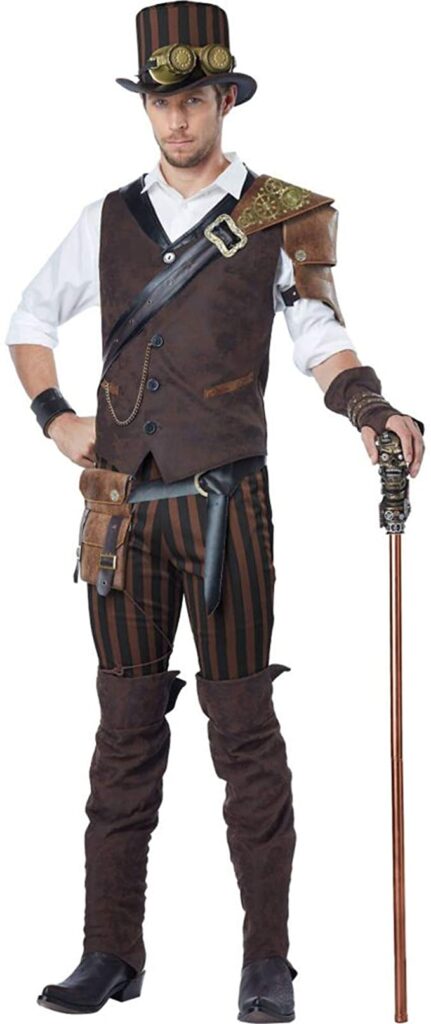 This is a dashing steampunk adventurer costume made using 100% polyester fabric, 100% polyurethane foam, and faux leather. The costume is composed of a vest, pocket chain, pants, belt with an attached satchel, a pair of shin wraps, a hat with decorative goggles, a shoulder guard, and one glove.
The shoulder guard is made using polyurethane foam and has a faux leather strap with a plastic belt buckle. It is designed with gear-like prints which enhance the steampunk vibe of the costume. The vest has center-front buttons, and a watch chain attached to a false pocket welt. Striped cropped pants have an elastic waistband which is good for comfort.
Steampunk Swashbuckler Captain Costume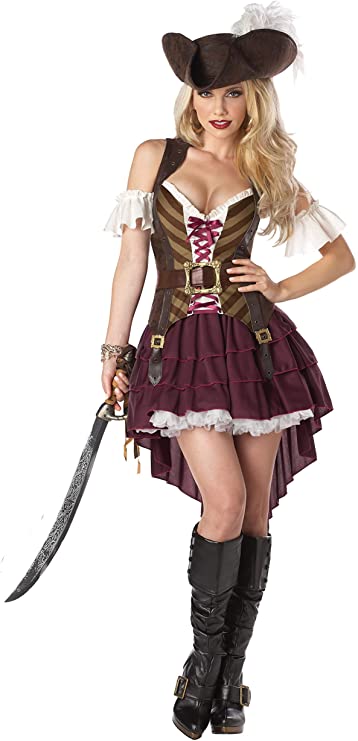 This adventurous high seas costume is made using Polyester, cotton, and polyurethane faux leather. The steampunk Halloween costume features a grommet trimmed bodice that elegantly frames the neckline. The tri-layered skirt is longer in the back for a sexy swagger. The corset-style top has a back zipper and the front inset panels have ribbon lacing.
The costume includes the pirate hat, detachable ruffled sleeves, and belt with skull buckle. This costume is a perfect foundation for a steampunk pirate persona. You can complete this persona by adding a retrofuturistic gun, gun-holder, an eye patch monocle, and a pirate sword. Perfect for people with an adventurous spirit.
Steampunk Costume Adventurer
This costume perfectly encapsulates 19th-century machinery with the style of the wild west. The chocolate brown dress features black and gold details. From buttons to leather straps to lace fringe the intricate design will easily keep onlookers captivated. It also includes a bolero jacket with butterfly sleeves and a choker-like collar.
Also included is a matching brown top hat with goggles that allude to your mechanical inclinations. For a more self-reliant look check out the available rifle or shotgun props. You can also add a leather strap satchel, a cane with an attached telescope, and a few other accessories to complete the look.
Steampunk War Lady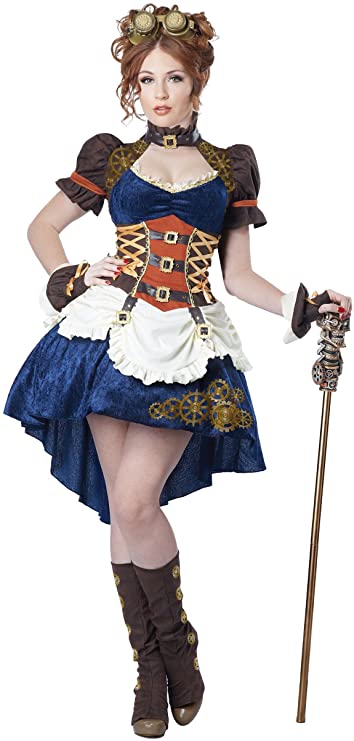 This steampunk Halloween costume is made using 100% polyester. It features a cobalt blue corset which is styled with lace-up detailing and an attached cream-colored overskirt. A pair of fingerless gloves and boot tops are included along with a decorative set of goggles and a choker for the neck.
Industrial gears and cogs are printed on the high low skirt and the shoulder shrug which adds to the character of the costume. Adding certain accessories such as gun-holsters, retro-futuristic guns, a walking cane can help you achieve the final war lordess look.
Steampunk Halloween Costume Masks
Steampunk masks are an amazing way to spice up your Halloween costumes. They bring a spooky post-apocalyptic vibe with them which is perfect for the Halloween theme. Using steampunk masks allows you to turn your persona into unique characters which will certainly make an impression on anyone who sees you in them. These masks allow you to access versatile themes such as opera phantom, vendetta hacker, plague doctor with crow bird beak, robot cyborg, creepy grim reaper, pirate bandit, scary devil, purge game master, animal warrior, and much more.
Here are some amazing Steampunk Halloween Costume Masks that will help you in getting the perfect character for Halloween.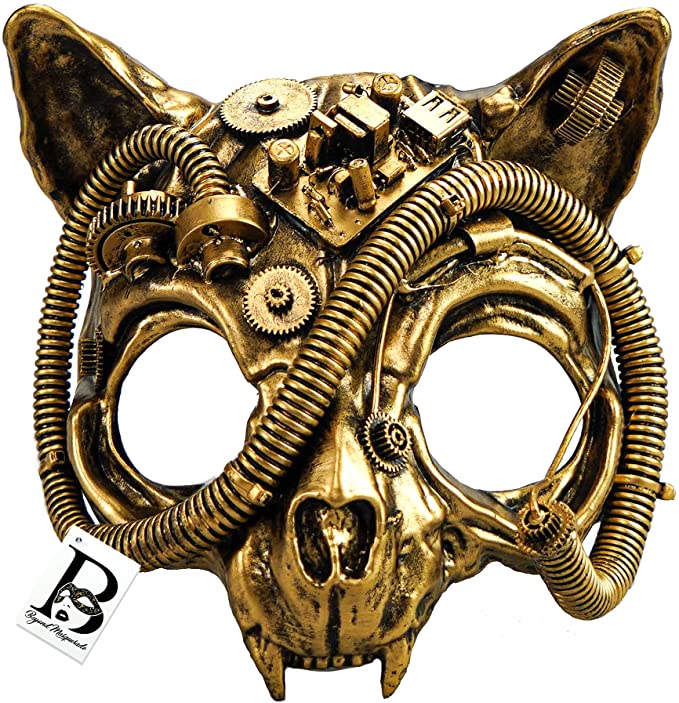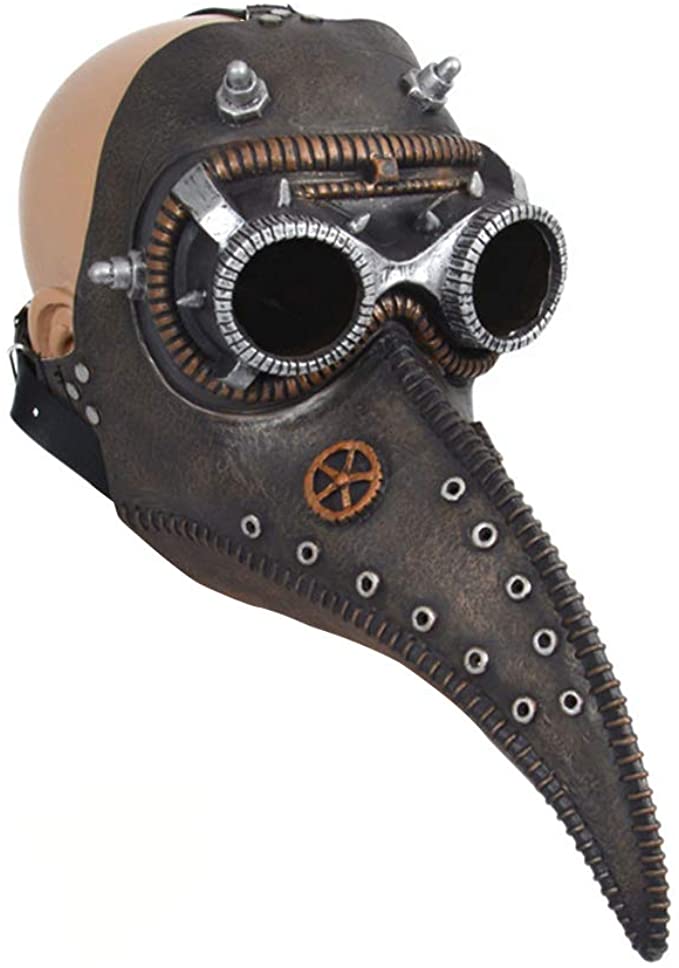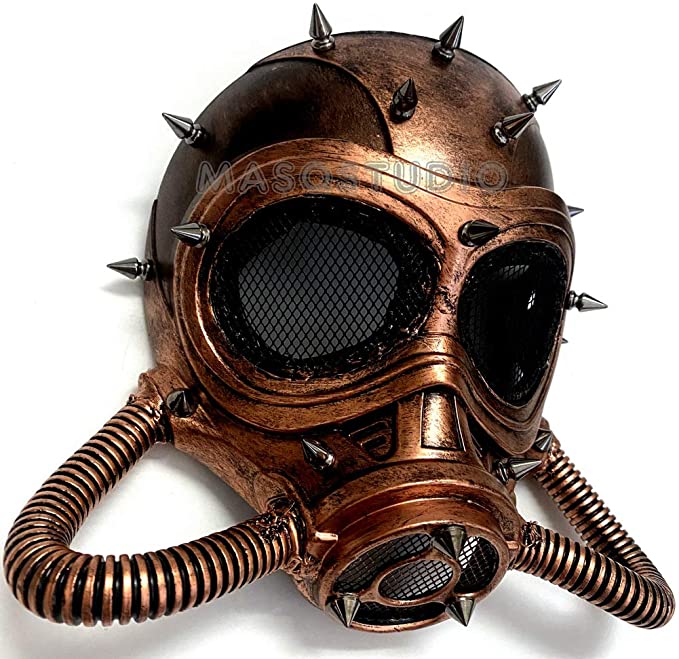 If you would like to check out some more amazing steampunk clothing and accessories click here.