Steampunk robots are creative technological inventions that have a flair for pseudo-Victorian mechanical fantasies. These modded vintage robots help the modern world connect to the fantastical universe created by authors like H.G. Wells and Jules Verne. The visual characteristics from these fictional worlds have helped steampunk artists in widening their imaginations and creating amazing steampunk robots and mechanical models that we can see and appreciate today.
Steampunk Robots in Literature and Media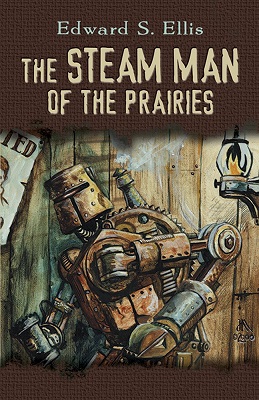 One of the earliest examples of steam-powered humanized robots was seen in the 1868 novella The Steam Man of the Prairies written by Edward S. Ellis. The Steam Man was powered using a belly full of hot water and operated using reins on its levers and valves. An improved and optimized version of the same automaton was later seen in sequels which were written by Harry Enton.
Another example of a steampunk robot that can be seen in literature is the automaton Tik-Tok who is a fictional character from the Oz books by American author L. Frank Baum. Tik-Tok was initially presented as a round-bodied mechanical robot made of copper, that ran on clockwork springs that needed to be wound periodically, like a wind-up toy or mechanical clock. The Clockwork Dynasty by Daniel H. Wilson is one of the more modern works which shows the existence of automaton robots full of gears, springs, brass, and character living alongside humanity.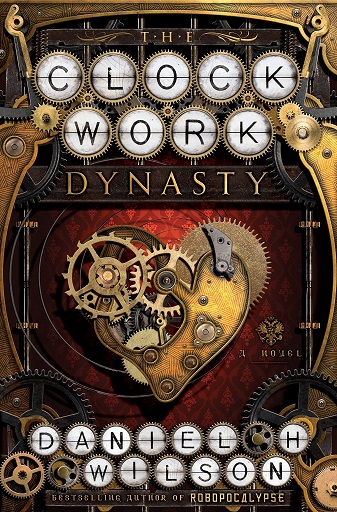 Over time there have been several modern interpretations of steampunk robots. Movies like Hellboy 2: The Golden Army(2008) and Hugo(2011) are some of the more modern movies that have been able to capture the essence of steampunk aesthetics when rendering their automatons on screen.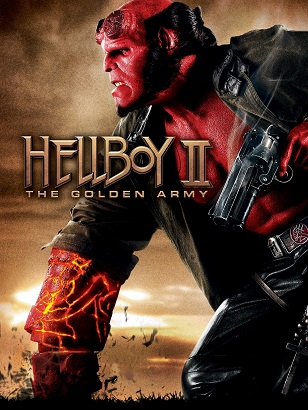 Steampunk Robots and Action Figure Designs and DIY projects
The most common visual characteristics of steampunk robots include gears, clockworks, pipes, gauges, etc. Other features include moving parts, winding mechanisms, and other functionalities in the modern world. Most modern steampunk tinkerers use repurposed old parts, brass, clockwork, chrome, and sometimes mixing technology with several other elements into Victorian-themed steampunk robot sculptures.
Steampunk Robots- 3D Action Figure/Watch Holder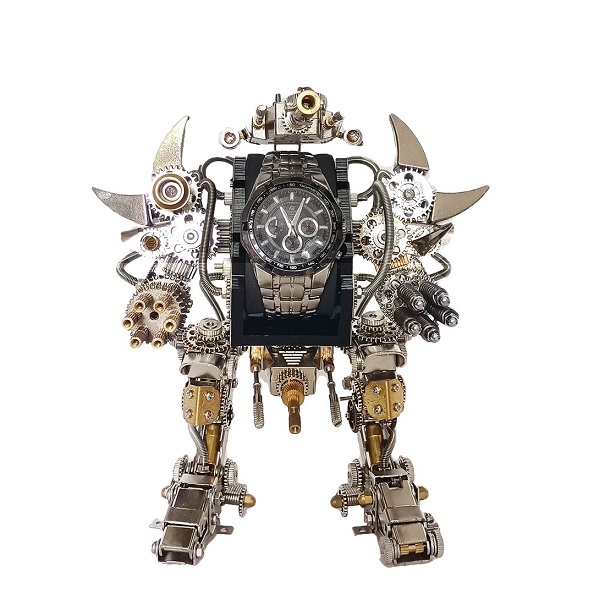 This particular steampunk robot is named Taurus by its creators. It is designed as an action figure and also as a watch holder. The robot is made by cutting high-quality metal using ultra-precision laser cutting. This robot comes as a DIY assembly kit consisting of various parts that need to be put together as per the instructions given in the instructions manual. There is no need for glue as most of the parts are fixed together using screw connections and gears.
This robot features a lot of amazing details like gears, screws, spring mechanisms, etc. There are a lot of pieces involved in this DIY assembly project and patience is the key when putting it together. It will not only help you get hands-on skills in assembling a complex robot from scratch but it will also help you build creative skills and problem-solving skills. All the tools to fix the robot are included with the robot.
The robot is suitable for all above 14 years of age. Children below 14 years are advised to play with the robot under adult or parental guidance. Apart from being used as a decorative item for your desk, this robot can also be used as a watch holder.
Steampunk Robots – Ancient Mechanical Warriors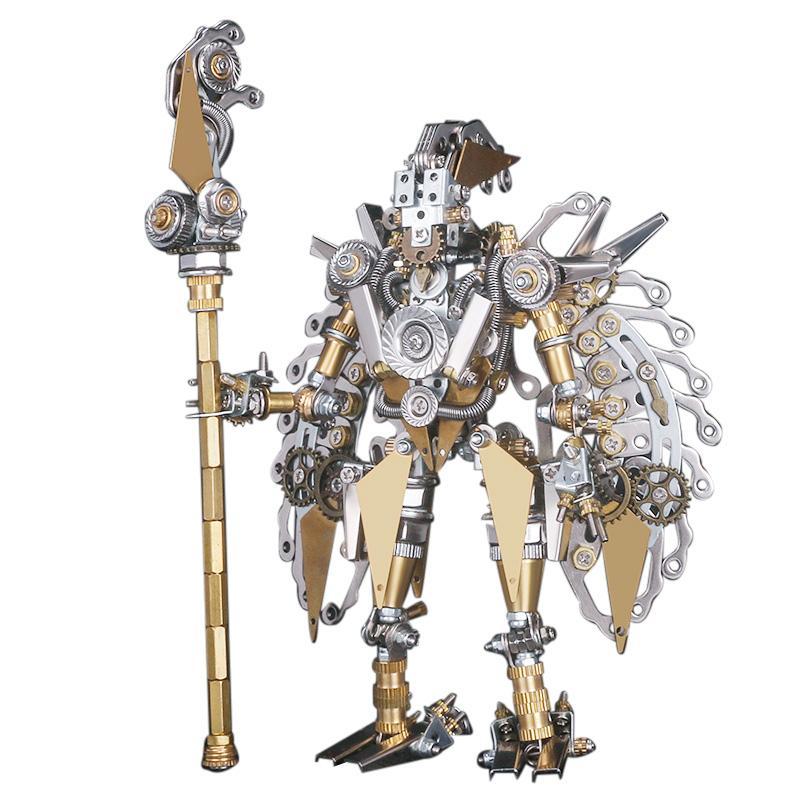 These are an amazing set of steampunk robots who are considered by their creators to be ancient mechanical warriors. Each of these warriors wields a powerful weapon and their creators have also given each of them their own unique back story and inspiration.
These models are designed using laser cutting technology on high-quality metals such as stainless steel, iron, and copper. These robots are the perfect DIY assembly models to enhance your creativity and imagination. Each model is made up of 500+ parts that make the assembly a time taking process. Patience is the key when putting these steampunk robots together. You can also mix and match different parts to create your own robot designs which is a fun activity to engage in. Every joint of these models are movable which makes it a wonderful experience to assemble it and enjoy your work afterward.
This model is suitable for all people over the age of 14 years. Children below 14 years of age are advised to play with this DIY project under adult or parental guidance.
Steampunk Moon Astronaut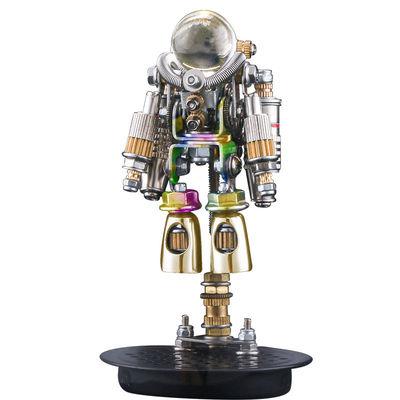 Astronauts have always been considered pioneers and adventurers who explore the vast mysteries of this universe. They do so by donning their spacesuits and other gadgets and jumping onto their spaceship to fly into the darkness we call 'Space'. The designers of this amazing space astronaut have combined elements such as bolts, gears, chains, springs, etc. to create this steampunk design. The design of the body is modeled after the design of a spacesuit, which consists of the oxygen tube and oxygen cylinder backpack design The head features a transparent ball that can display different effects according to different lights.
It is a relatively easy project with 154 pieces that need to be assembled. The completion time can be somewhere between 1-2 hours depending on your skill and hands-on abilities. You can also attach a key chain to the model and use it as such.
Mechanical Robot Model with Bluetooth Speaker
This robot is called the 'Magnetic Hunter' by its designers. Each part of this robot is made using high-quality metal and cut using ultra-precision laser cutting to provide a perfectly detailed model. A wireless Bluetooth speaker is provided which can be attached to the top left shoulder of the mecha bot. The Bluetooth speaker can be connected to any mobile phone or can also be used to play music using a TF memory card.
This unique DIY puzzle can be assembled in any way you can possibly imagine. Beginners, however, are advised to follow the instructions as provided in the manual. Tools such as screwdrivers, nipper pliers, and a mini sleeve are provided with the kit which makes it really convenient to assemble this project.
Steampunk Robots – Infantryman Mecha Model
If you are an avid puzzle collector, or if you would just like to stay indoors and engage in a meaningful activity, then this DIY model is for you. This model is made using high-quality material and consists of 200+ pieces. The artist Mr. Mech has created this beautiful design with his unique, recognizable steampunk style and pain-staking perfectionism with great attention to detail
You can assemble this robot alone or with your friend and family. This model will not only help you kept engaged in an activity for a few hours but will also help you build creative, problem-solving, and reasoning skills. Once assemble this robot appears as one from an army of several steampunk robots used to carry ammunition and supplies around the battlefield.
This model can be used as a decorative item for your desk or can also be used as a phone holder for you to enjoy using your phone while appreciating your DIY handiwork at the same time.
Steampunk Style Industrial Table Lamp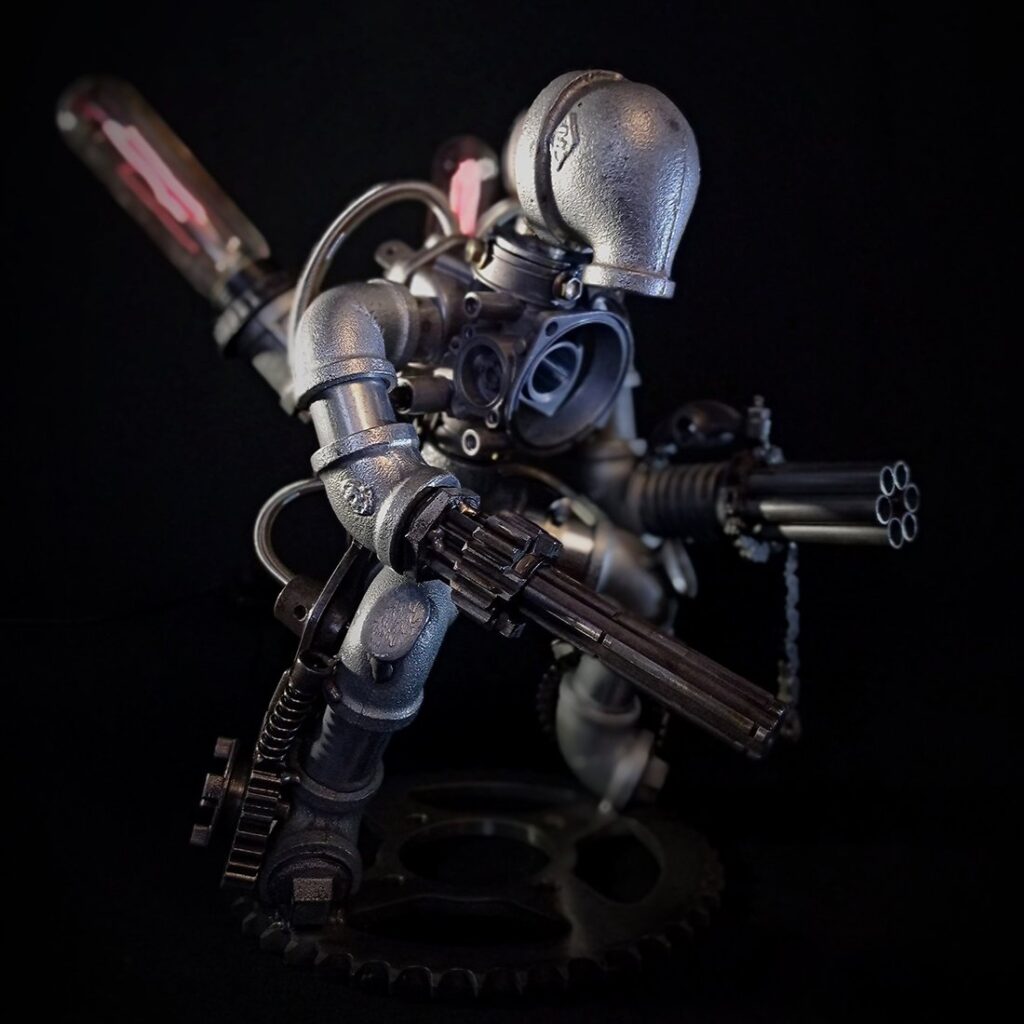 This steampunk-style industrial table lamp is a unique and exquisite robot model designed using high-quality metal materials. The lamp has a stable and reliable structure that can be disassembled and reassembled to adjust the amazing details as per your preference.
It comes with an Edith tungsten filament bulb whose brightness can be adjusted. It not only has a vintage style and personality but can also be used as a bedside lamp or reading lamp. This lamp will be a perfect addition to your home, bar, coffee store, workplace, and so on.
You can check out some more steampunk robots and designs here.
If you would like to check out some steampunk related models and DIY projects, check here.
Batman Action Figure – Steampunk Version
Anyone who has heard of Gotham knows that it lies under the protection of the DC comics greatest detective. He acts as an agent of hope and justice against those who indulge in crime, chaos, and evil. This steampunk version of Batman is part of the Variant Play Arts KAI figures. The designers, sculptors, and engineers behind this project have poured their hearts and soul into creating this original and unique design.
The designers have taken inspiration from the gadgets and suits used by this iconic figure and combined them with the design elements of the 'Steam era'. The transparent chest armor reveals gears and cogs which appear to power the suit's operations. The body armor on the Bat-suit appears to be the armor that was worn by medieval knights. The cape has a five-layer structure that can be adjusted to different shapes and designs. The entire figure is carefully painted throughout using burnished bronze metallic colors which further adds to the steampunk aesthetic of this amazing 'Steam Knight'. This Batman action figure also includes a display stand and interchangeable hand parts.
Batman Action Figure – American Wild West Version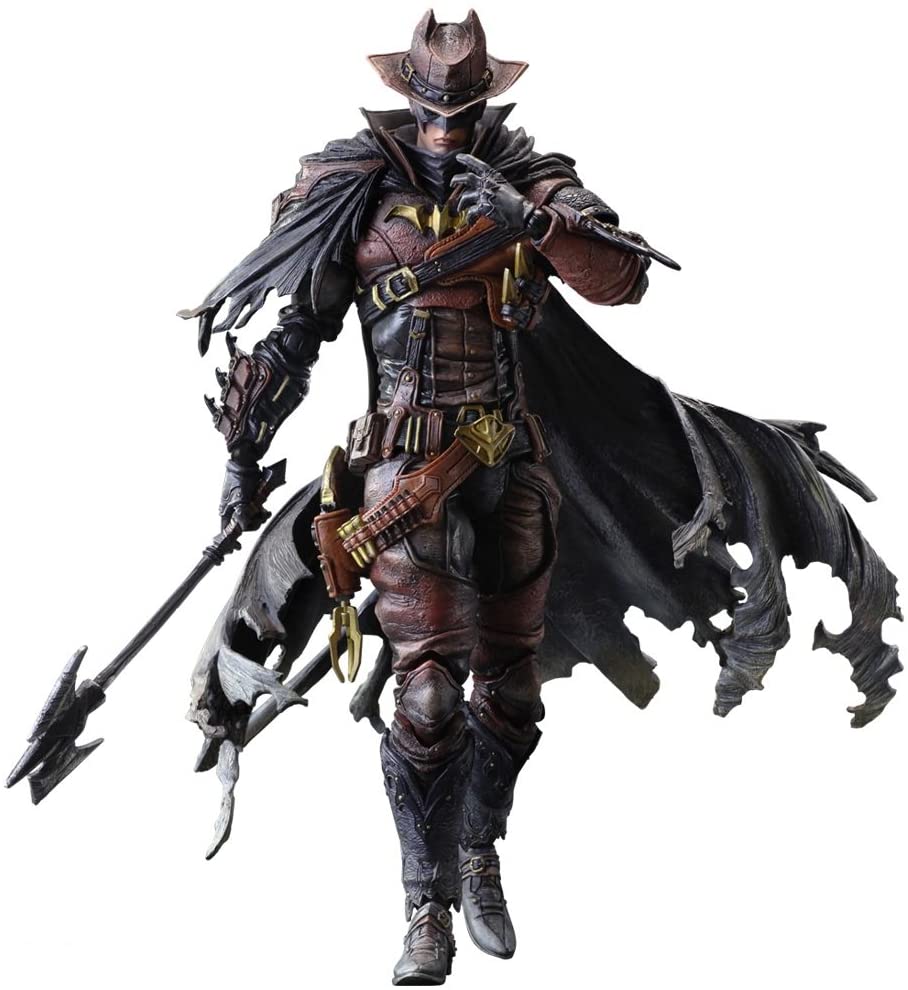 This version of Batman is an American Wild West-inspired action figure from the same designers as part of the Variant Play Arts KAI figures. This action figure features a heavily detailed costume which includes a mask, cowboy hat, utility belt, grapple gun holster, cape, and many more amazing details. There are numerous posing options and several eye-catching details which complete the Western aesthetic of this amazing batman action figure.
This version of Batman also has a lot of unique weapons at his disposal. Weapons include Batarang, knife, pistol, grappling hook, and axe. The figure also includes two sets of interchangeable hands and the cape is removable.
This action figure will really stand out and get attention from all who lay their eyes on it.
Steampunk Samurai Iron Man and War Machine
Iron man's high-tech armor is rendered as ancient Samurai armor, with details down to the ornate scroll-work on the breastplate and rivets on the plating. Clockwork, steampunk style jet pack and flintlock rifle-like cannons provide a vintage alternate world atmosphere to the design. The 180mm figure comes with two types of optional hands (left and right sides), a Katana, and a jet pack.
The War machine armor has significantly more weapons than the Iron man armor. These weapons appear to be modified versions of weapons seen during the late 18th and early 19th century. The entire set Includes two pairs of optional hands, a sword, a backpack, and a stand.
These action figures are arranged by Takeyuki Takeya and sculpted by Junichi Taniguchi and Takashi Yamaguchi. Their combined masterful skills have re-envisioned the two iron armors as it might have appeared in the era of Samurai.