Steampunk keyboards are a candy to the eye for steampunk enthusiasts who spend a lot of time on their PC. The 1800s marked the start of typewriters so you can see a lot of steampunk keyboard designs that resemble a typewriter. These keyboards are mechanical-style keyboards built with high quality, typically spring-activated, key switches. A mechanical keyboard has individual switches underneath each keycap which are spring operated with little metal contacts that close the circuit when you press down. A membrane keyboard, on the other hand, consists of a silicone/ polyurethane/ rubber membrane that runs the entire length of the board.
Neo-Victorian Steampunk Keyboard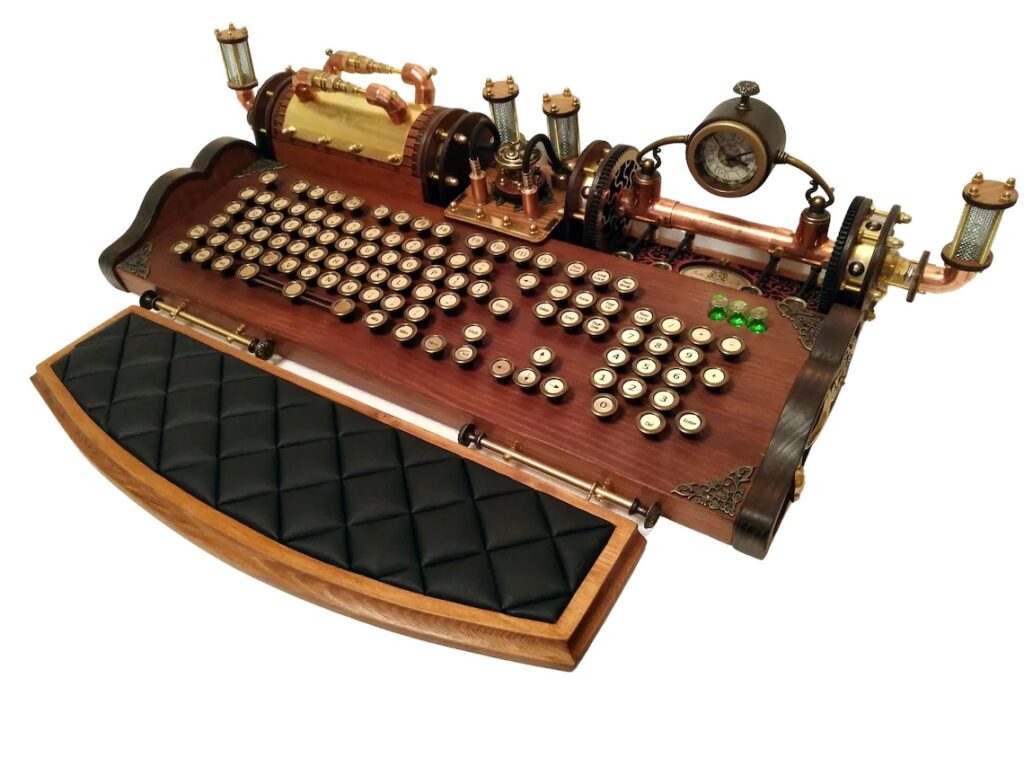 This steampunk keyboard is fully functional and carefully designed and decorated by the hands of the artist Attila. This keyboard is a piece of art. Attila's craftsmanship is incredible and he is very gentle to listen to people's requests. This is an amazing accessory to combine with your steampunk computer. It would just pull you towards your work desk with its aesthetic beauty making it easier for you to get your work done.
The keyboard has a working clock attached on the top along with some detachable vintage lights which operate on 12V. The keyboard is crafted and designed with some high-quality wood, copper, solid brass, metal, glass. It is available in both generic and mechanical styles.
Hand-made Steampunk Keyboard Set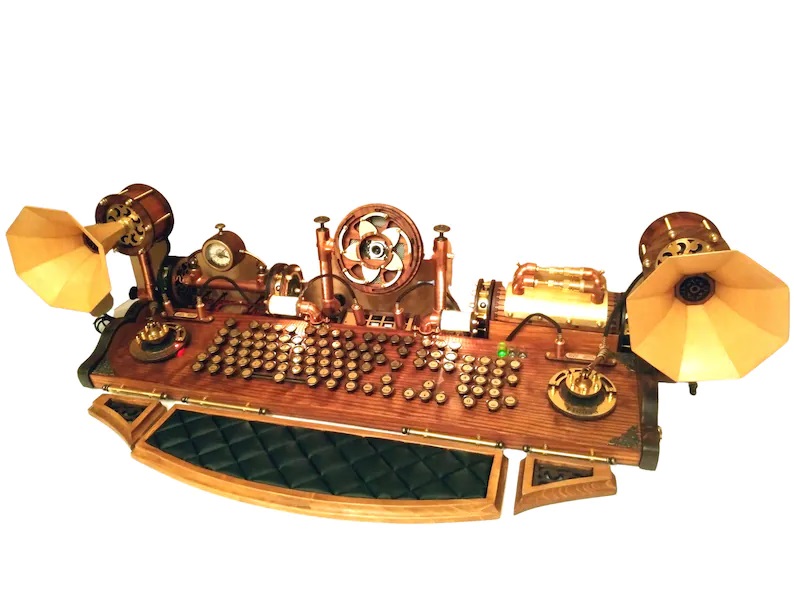 This is a hand-made fully functional keyboard set for a regular PC, laptop, or notebook. The keyboard is made using wood, copper, solid brass, metal, glass, etc., and features generic membrane keys. The artist, however, offers custom-made mechanical keys on request for some additional fees.
The keyboard has a lot of brilliant features. It includes a built-in full HD camera with a functioning iris. The iris can be closed when the camera is not in use. Regular desktop speakers are attached to the keyboard and the volume control is on the left side of the command panel. The speakers are in the shape of a gramophone which was seen in use during the Victorian era. Two extra lights are also built in the speaker with a switch to turn it on or off.
The Diviner Wooden Keyboard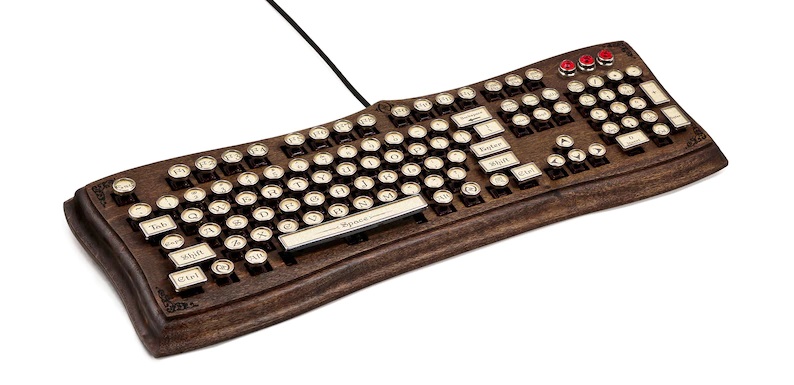 Drawing inspiration from Victorian-era design, The Diviner Keyboard is a modern USB keyboard with a natural wooden frame and vintage typewriter keycaps. It is a handmade steampunk keyboard with a high-quality carved walnut wood chassis which makes it both lightweight and durable.
After carving, the wood is carefully routed along the edges with a Roman Ogee pattern and then finely hand sanded until the wood has a remarkably smooth texture. Then, the wood is cleaned and coated. Two coats of ultra-clear semi-gloss lacquer are applied to the work after it has been prepared, and then it is wet sanded with ultra-fine sandpaper to flatten out any uneven material. Finally, it is coated again with a heavy layer of lacquer to provide a lasting and beautiful finish.
The four corners and center point are adorned with acanthus victorian engraved designs that frame the typewriter keycaps and accent the edges of the Diviner. Adjustable polished brass knobs act as risers underneath the keyboard that, when combined with the rubber pads at the bottom, ensure it is secure on any desk surface. The keyboard lock indicator LEDs are covered with refractive red jewel lenses wrapped in brass with a silver coating (Fender Amp Jewels).
At the heart of every Datamancer keyboard are electronics, chosen for their superior quality and adaptability. German engineered Cherry MX blue mechanical switches are used on each keyboard. These key switches feature a tactile click reminiscent of a vintage typewriter and are rated for 50 million keystrokes. Dip switches allow hardware-level support for QWERTY, Dvorak, and Colemak keyboard layouts that work on Windows, Linux, and Mac operating systems. Lastly, function (FN) media controls come standard.
The keycaps replicate the feeling of using an old-fashioned typewriter. Each key is wrapped in a metal housing and includes lettering that doesn't fade with use.
Hand made Compact mini apocalyptic style wireless keyboard and mouse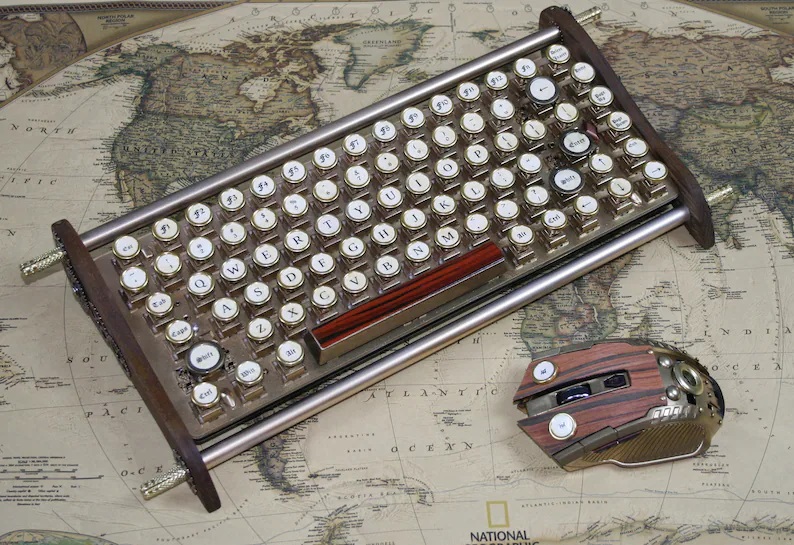 This is a fully mechanical switching keyboard custom built in a classy retro/ post-apocalyptic style. It is a standard-sized keyboard but without a number pad. It is hand-made using wood, metal, brass, copper, epoxy, resin, and gears.
The Mini Mechanical keyboard delivers everything you need from a competitive gaming keyboard as well as the office, home or to make your own personal setup stand apart from everything else.
Based on an excellent wireless gaming chassis this is an ideal keyboard to make your setup stand apart. It is suitable for gaming and heavy typing tasks.
It is equipped with real aged teak end plates with metal tubes bonding it all together giving it a classic aged retro look.
The keyboard also comes with a vintage-style mouse that perfectly matches the look and feel of the keyboard. The artist of this amazing keyboard also caters to customization requests upon contacting him.
Mechanical Type-writer Keyboard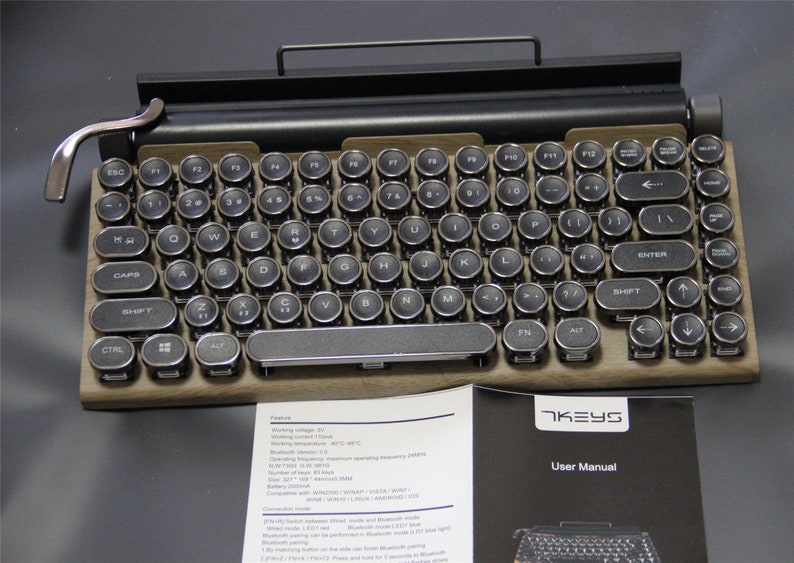 This is an 83 key keyboard with dual-mode functionality. It can be connected wirelessly with any device featuring Bluetooth functionality like iPhones, iPads, tablets, etc. It can also work with a desktop computer using a Bluetooth 5.0 receiver or by using a cable.
The keyboard features mechanical keys with the look of a classic vintage Victorian typewriter. On the other hand, the keyboard also supports modern functionality such as a wired drawing panel, mobile phone/tablet holder, light adjustment joystick, and brightness adjustment knob. A colorful backlight effect with mixed lighting is also provided for gaming fans.