The roots of steampunk can be traced back to sci-fi and fantasy literature from the 19th and 20th centuries. Over time this genre has developed its own culture of art, fashion, music, games, etc. Most of the early steampunk culture developed by the followers involved designing and developing artwork and fashion using their own skills and imagination. This gave rise to the diehard DIY attitude that most steampunks possess today. Steampunk DIY involves using raw materials from thrift stores and designing amazing steampunk artwork, clothing, accessories, etc. These designs can be used for decorative purposes and can also have functionality in the modern world.
What is Steampunk DIY?
Starting a steampunk DIY project requires a lot of thought and leg work. Building an object from scratch requires creating an accurate blueprint of the project. The next step is scavenging and obtaining parts from thrift stores and junkyards. Then the raw materials need to be crafted using techniques that involve shaping metal, wood, and other material. The crafted pieces are then put together using joints, pulleys, soldering, and other techniques to get the finished artwork.
Many steampunk artists are skilled workers who enjoy creating and designing steampunk-themed objects. The fan base of steampunk, however, is ever-growing and has people following it from all over the world, working in all kinds of professions and jobs. These people may not always find the time or have the skill to design and create their own steampunk DIY projects. Many artists over time have designed and created steampunk works for people to enjoy and display in their own surroundings. These works can be in the field of wall art, digital art, clothing, accessories, furniture, decor, etc.
Recently many artists and companies have also started creating DIY projects which let you create a steampunk project from scratch. These projects usually come with a set of parts that need to be arranged in a certain way to get the final outcome. Most of these projects also have a functional aspect to them and require human interaction in order to work giving these projects a kinetic aspect to them.
Some amazing steampunk DIY projects for everyone
Marble run 3D steampunk DIY puzzle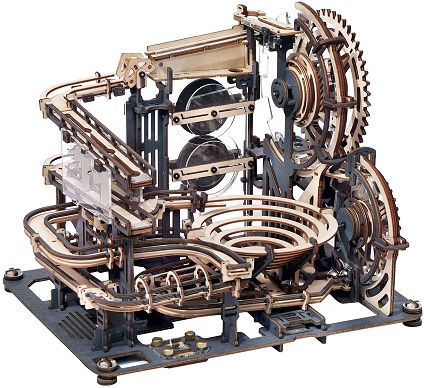 This is an amazing DIY puzzle consisting of 294 pieces. This project is inspired by the Rube Goldberg Machine, which refers to any contraption that performs a simple task in an overly complicated way.
Once the DIY project is complete you can watch marbles racing down slides full of crazy twists and turns through tricky & fun devices. These marbles are set in motion by rotating a crank lever and gear-like structures which sends the marbles on different paths. The design structure itself consists of amazing mechanisms and tricks such as funnel-type rotary acceleration devices, swinging ball separators, and much more.
The raw materials are made using non-toxic and natural plywood sheets having a black-grey appearance with a metallic finish giving it the look of an industrial machine. The DIY kit also includes detailed instructions with graphic imagery to assist with assembling the machine. Some pieces are fragile and need to be handled with care. Spare parts are included just in case.
This project is very similar to Bruce Rosenbaum's kinetic art experiment on autistic kids which helped the kids build on their social skills and problem-solving skills. It is also designed in such a way that allows you to learn basic fundamentals of engineering, improve hand-eye coordination, build problem-solving skills and think out of the box. This steampunk DIY project can be an excellent gift for your loved ones on any occasion.
Here is a video with a detailed description of the assembly process.
Some of the details may vary from your own puzzle. Make sure to double-check with your own instructions manual.
Note: Make sure children below 14 years of age take part in this project under adult supervision.
Steampunk Owl clock
This amazing Owl clock is not only a perfect DIY project but can also be used as home or desk decor. It is a beautiful work of engineering and is designed using the finest craftsmanship. The clockwork is run by using a AA battery. Apart from this, all the internal devices are mechanically operated using gears.
This puzzle also supports a bell timer which is driven by clockwork. The timer can be set to anywhere between 0 and 30 minutes and can be used like a Pomodoro. Pomodoro is a time management technique that uses a timer to break work into intervals, traditionally 25 minutes in length, separated by short breaks.
The project consists of 161 high-quality wooden pieces which need to be assembled onto the main skeleton and interconnected gears. The fit of the pieces is perfect which brings a comfortable assembly experience. The kit includes a detailed instructions manual, matte paper, paraffin wax, and a small hammer to help create this complex and exquisite artwork.
It is a challenging project and a perfect gift for your loved ones, children and adults alike, who love a puzzle and also love time management. This project will help build problem-solving skills, develop concentration skills and provide hands-on experience with working on a complex project.
Check out this video for a description of the assembly process.
Some of the details may vary from your own puzzle. Make sure to double-check with your own instructions manual.
Vintage Gramophone puzzle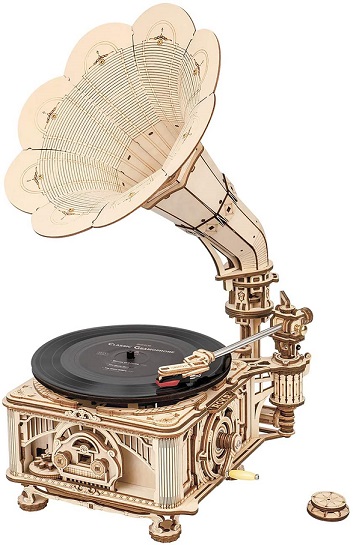 This 3D gramophone puzzle comes in the form of smooth wooden sheets with 424 individual pieces. This project does not require any battery or glue and the individual pieces just need to be assembled together to build this 3D model. This is not just a DIY project and once the model is complete you can crank up the gramophone and watch as the intricate inner gears kickstart into mesmerizing motion.
This gramophone puzzle also includes a volume control knob and a USB port for an extra power supply to reduce hand labor. A hand-crank generator allows the machine to convert electric signals into audio signals Your vinyl records can be played at three different speeds. The kit includes an album with three classical sounds. The first one is, "Memory Of A Dance", which is an elegant and relaxed mix. The second track is, "The Merry Gent", which has a lively and cheerful feel. And the third one is, "The Giant Killers", which has a very powerful and majestic tone.
This is somewhat a difficult project, especially for beginners. Some of the parts are delicate and need utmost care and patience when handling. A detailed instructions manual is provided with the kit to help you in assembling this functional vintage gramophone. Replacements parts, in case of any damage, can be obtained by contacting the seller.
Here is a video with a breakdown of the assembly process.
Some of the details may vary from your own puzzle. Make sure to double-check with your own instructions manual.
Steampunk DIY Wooden Airship Puzzle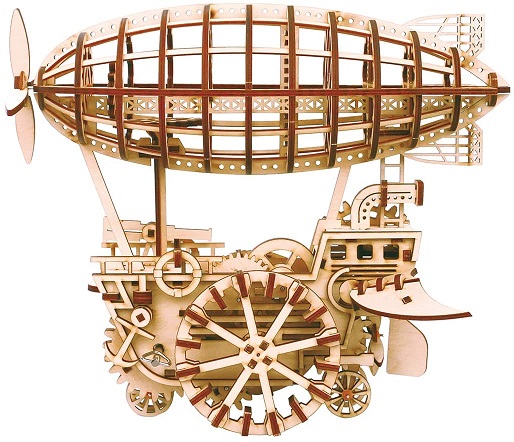 We cannot imagine a world of steampunk without some steam-powered mechanical blimps or airships. Check out this perfectly designed DIY kit that requires your hands-on work to complete. This mechanical wooden airship puzzle uses precision laser cutting of high-quality plywood, which is safe and convenient.
The puzzle comes with all the parts and detailed instructions on how to assemble these parts together. On assembly, it takes the form of a charming ancient airship that runs on mechanical power and rotation of gears. The puzzle is really fun and challenging and the feeling of seeing the airship move after building it is just amazing. However, in order for the airship to work properly, all the pieces of the puzzle must be carefully assembled in a complete and solid way.
Here is a video of the complete assembly of this steampunk DIY puzzle.
Mechanical Wooden Movie projector puzzle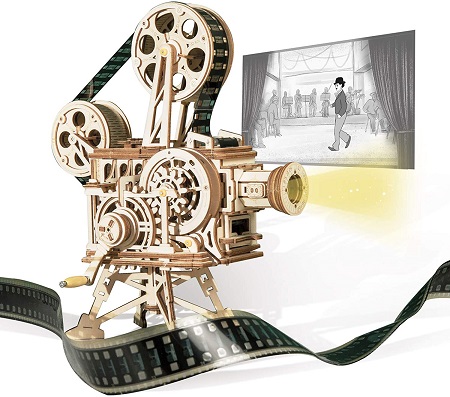 Steampunk inspires innovation and this movie projector is one of the best examples. It is the world's first wooden battery-free retro projector which when assembled can play films in a dark room. Just hold it 12 inches away against a white screen, rotate the hand-crank, and you can see the vivid animation.
The best part about this puzzle kit is that it does not require any battery. You just need to crank the handle to generate electricity for projection. This wooden puzzle kit comes with a film of "Modern Times". You can even make your own film to record your good memories. (suitable for 4.5mm/5mm film).
The puzzle is a challenge for your brain involving hours of an immersive building environment to tease your mind. The airship model on completion has an amazing steampunk aesthetic. When you open the side door, you could see the mechanical engineering inside with see-through gears. Everything you need is in the package. Every step is clear in illustrations. Just follow the manual strictly, and your time will be rewarded with a grand end result!
Here is a complete video of the assembly of this steampunk DIY wooden projector.
You can check out some other amazing steampunk DIY projects here.
Some more steampunk DIY projects can also be found here.