Dieselpunk is considered by many to be a retrofuturistic sub-genre of science fiction that combines diesel-based technology of the period between 1920 and 1950 with futuristic technology and progressive and innovative ideas. The term was first coined by Lewis Pollak in 2001. He used this term as an appropriate description of his fantastical tabletop game called Children of the Sun. Over time this term has been associated with a variety of visual art, music, fashion, motion pictures, fiction works, and engineering.
Steampunk, on the other hand, started as a subgenre of science fiction literature. Initially, steampunk was used to describe some of the fictional works by authors such as K W Jeter, Tim Powers, and James Blaylock. The roots of this genre are based on combining the steam-powered technology and aesthetics of the industrial era with modern and futuristic technology and ideals. It features some of the most important technologies of the Victorian era such as steam-powered machines, clockwork, and other industrial and electrical machinery.
What is dieselpunk?
Dieselpunk was initially used to define a genre of science fiction. Over time it has grown far beyond its initial usage. Now, it is used more as a philosophy that forms the basis of a unique subculture and art movement. This movement has distinct elements visible in music, art, movies, and works of fiction. The philosophy of dieselpunk can be extracted by breaking down the terms 'diesel' and 'punk' separately.
Even though 'diesel' relates to the diesel-powered technologies associated with the genre, however, it would be an oversimplification of the term. The term 'diesel' actually refers to the "diesel era" which started just before the Jazz age and concluded somewhere between the end of the 2nd World War and the beginning of the Cold War. This era provides the blueprints and inspiration to dieselpunk enthusiasts to come up with really amazing artwork. Some of the most common elements from the diesel era that feature in dieselpunk works include zeppelins, flappers, mobsters, Jazz, Swing and Big Band music, fedoras, zoot suits, etc.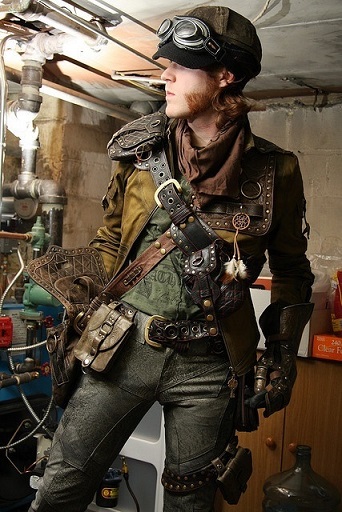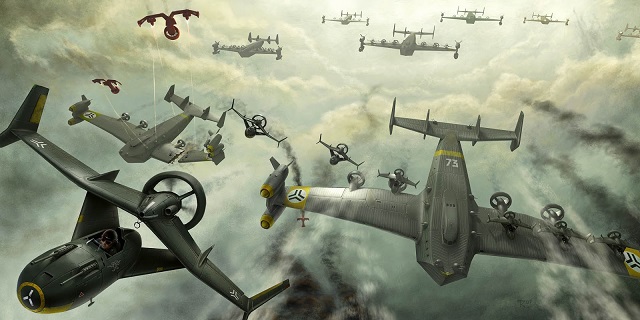 The 'punk' element of this genre can be related to the usage of the word in the interwar period, used as a label for small-time gangsters, and its subsequent use in popular culture, fashion, and music. The punk element brings a fresh perspective to this genre and the followers of this genre are not afraid of pushing the boundaries by using elements from speculative fiction and fantasy. This genre has a countercultural appeal with a certain disregard for contemporary aesthetics and an emphasis on individual expressions. This brings versatility to the genre allowing enthusiasts to interpret dieselpunk in their own unique ways.
Some common recurring themes
One of the most common themes associated with dieselpunk is a dystopian or post-apocalyptic world, where humanity has stopped evolving due to constant war. Survival, especially on diesel-powered machinery, is prioritized over any kind of visual or aesthetic evolution.
Another theme associated with dieselpunk is based on the aesthetics and utopian philosophies of the Jazz Age. This theme imagines an era in which there was no economic collapse in 1929 and the world moved forward with a positive view on technological advancements. The most common motifs associated with this theme are retrofuturistic elements and a utopian society. However, some motifs also include a version of this theme that explores darker aspects of the diesel age such as pollution, crime and corruption, and other moral ambiguities.
Totalitarian societies and war are also common features in dieselpunk-themed works. Other elements include mechanical wonders such as zeppelins, airplanes, tanks, etc.
Some famous dieselpunk works
Fritz Lang's Metropolis (1927) and Man With A Movie Camera (1929), directed by Dziga Vertov, are the earliest precursors for providing the visual elements for the dieselpunk genre. Metropolis(1927) features large factories, big pumping machinery, and other forms of radical technology and science prevalent in a dystopian society representing a futuristic style of dieselpunk. Man With A Movie Camera (1929) on the other hand portrays the enthusiasms and hopes of a society emerging from a worn and weary past and citizens interacting with the machinery of their modern world.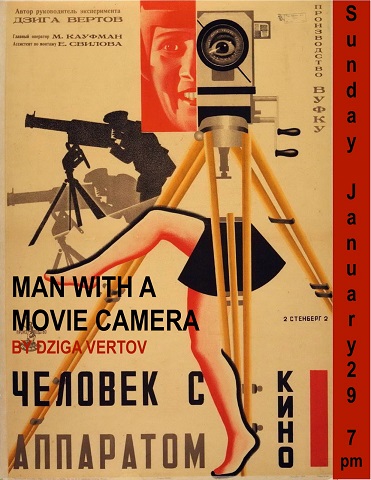 Some of the more modern works which feature dieselpunk elements and ideals include The Rocketeer (1991), Sky Captain and the World of Tomorrow as well as the Indiana Jones series. Many enthusiasts also agree that movies such as Captain America: The First Avenger and Mad Maxx also contain elements from the dieselpunk genre.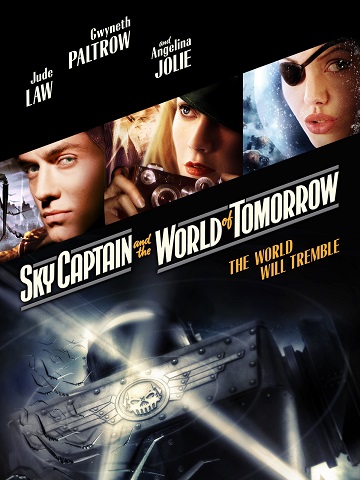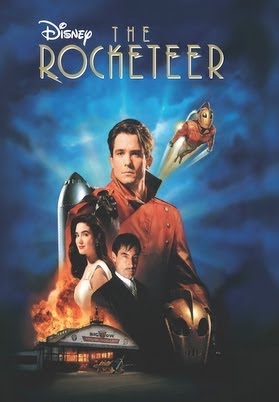 Iron Sky (2012) is another modern movie with influence from dieselpunk. It portrays a Nazi society living on the dark side of the moon with huge machinery from the post-war era. It also features huge airships and blimps and a war between the free world and the Nazi colony. Sucker Punch(2011), by Zack Snyder, is also a fantastic mix of retro, fantasy, and sci-fi elements with World War I aesthetics.
Final Fantasy VII (1997) and Fallout(1997) are two of the most famous games related to the dieselpunk genre. Return to Castle Wolfenstein and Wolfenstein: The New Order are dieselpunk-themed games with settings in an alternate history where the Nazis won World War 2.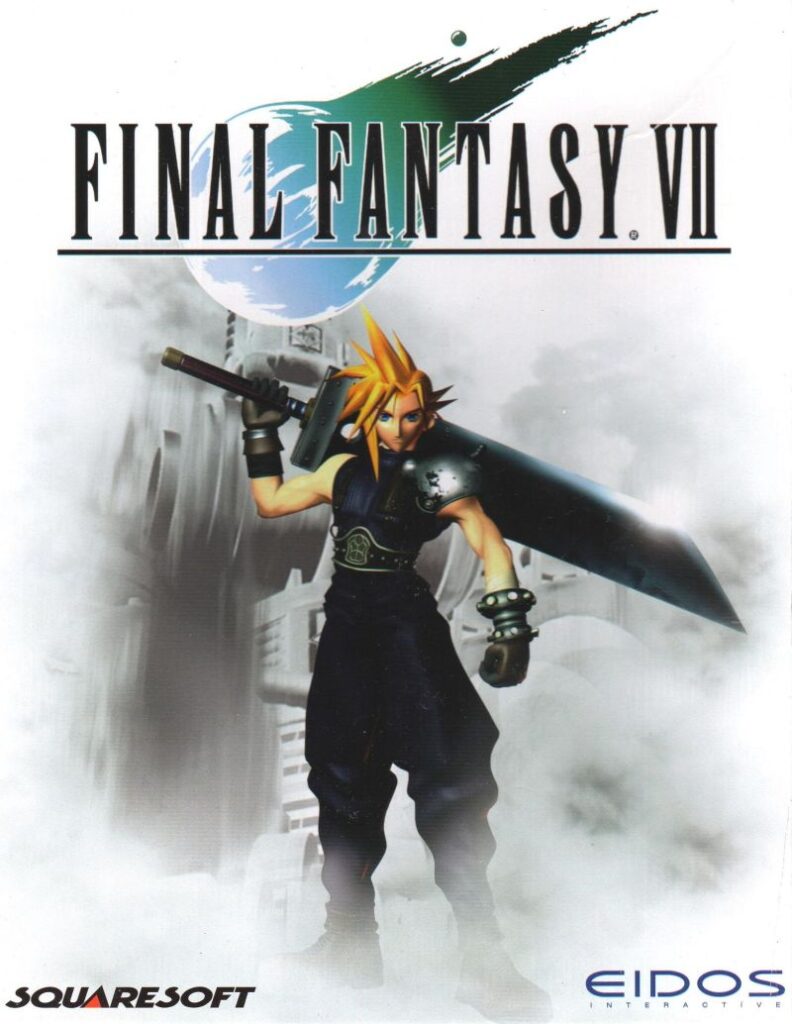 Dieselpunk has also found its way into music, combining elements of blues, jazz, ragtime, cabaret, swing, and bluegrass, commonly found during the diesel era, with contemporary instrumentation, production, and composition. Big Bad Voodoo Daddy, Cherry Poppin' Daddies, Royal Crown Revue, Squirrel Nut Zippers, etc. are some of the bands commonly associated with the genre.
Difference between Steampunk and Dieselpunk
Steampunk and dieselpunk are retrofuturistic genres of science fiction with a focus on technology and people. Steampunk is usually a reimagination of the past with a focus on Victorian-era technology and combining it with futuristic elements to create a futuristic version of a retro past. Steam was the main source of power in this era and is a vital part of steampunk aesthetics. Even the fashion and art culture of steampunk draw inspiration from the fashion and architectural spirit of the Industrial era. Victorian era, American wild west, science fiction, and fantasy are some of the inspirations which give steampunk its more modern meaning. Large overcoats, tweeds, pantaloons, corsets, bustle skirts, top hats, goggles, etc. are some of the main characteristic features of a steampunk attire.
Even steampunk-inspired artwork usually consists of gears, cogs, gas pipes, steam, airships, blimps, etc. which were some of the important aesthetics of the industrial era. However, most steampunk artists and designers add a futuristic touch to their designs to achieve a perfect steampunk look. A steampunk palette usually consists of muted and neutral colors. Most common colors include brown, metallic shades of copper, bronze, brass, sepia tones found in old photographs, etc.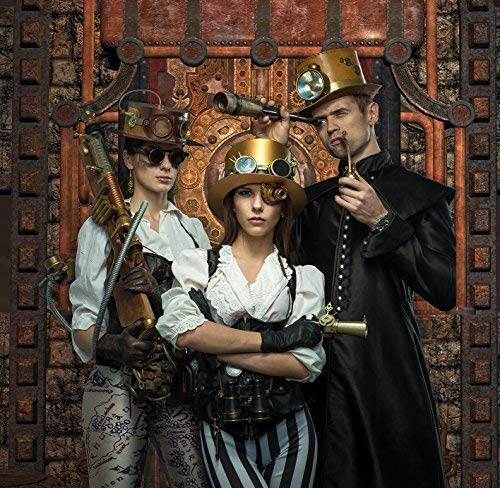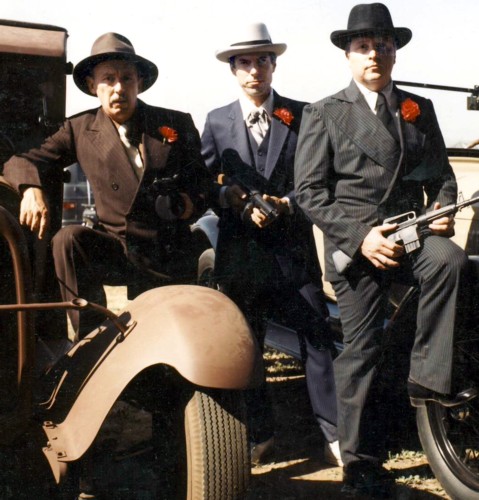 Dieselpunk on the other hand focuses on the interwar period between 1918 and 1950. Diesel fuel was the main source of power during this era and the term dieselpunk stuck as it perfectly complimented its futuristic and retrofuturistic counterparts, cyberpunk and steampunk. However, the machinery and the technology had little to do with the aesthetics of this genre. The architecture, music, technology, art, pulp magazines, etc., from this era, played a major role in laying the foundations of the aesthetics of dieselpunk.
Film noir, detective noir, War, Jazz music, totalitarianism, fantasy, etc. are some of the inspiring elements of a dieselpunk artwork. Mode of transportation includes modern airplanes in addition to zeppelins. Dieselpunk fashion also draws inspiration from the interwar era. It usually consists of waistcoats, arm covers, hosiery, bomber jackets, zoot suits, fedoras, pith helmets, wristwatches, goggles, overalls, etc. A dieselpunk palette also consists of muted and neutral colors. However, the colors have a darker tone than those found in steampunk. Military green, black, camouflage, metallic shades of grey and steel, etc. are some of the common colors associated with dieselpunk.