When we mix the essence of steampunk into kinetic sculptures, it unleashes a form of kineticism that draws a comparison between the technical ingenuity and functionality of a bygone era. These innovative ideas and fantastical imaginations are displayed in the sculptures of present-day artists. Some of the artists who are famous for creating kinetic steampunk art include Chris Cole, Ken Draim, Walter Rossi, etc.
What is steampunk Kinetic art?
Kinetic art is a presentation of sculptures or paintings in a way that moves or gives the impression of movement. It offers a presentation of motion which can be extended in time as well as space. Kinetic artists provide an amazing expression of modern art which includes mobile, mechanical, and optical artworks. Different steampunk artists have expressed a different stance on the process of creating kinetic art. However, most have been influenced by constructivism combining machine parts like gears with other moving parts. One of the oldest representations of this artwork can be traced back to 1913 in the form of a bicycle wheel.
Here are some of the most famous kinetic steampunk works which can be seen today:
Morris Museum – Simply Steampunk
The Morris Museum features a collection of amazing steampunk kinetic art. These artworks are presented in the four-year juried exhibition series called A Cache of Kinetic Art. The first three exhibitions have already taken place in 2018, 2019, and 2020 respectively. The second installment of this exhibition series was called 'Simply Steampunk' and featured 18 kinetic sculptures by 12 contemporary artists. These artists were carefully selected by a panel of expert practitioners of this art form. The artwork on display ranged in size from jewelry to room-sized installations, and in themes from traditional retrofuturistic sculptures to more broadly interpreted light and soundscapes. These imaginative creations are considered to have some of the most innovative design, engineering, storytelling, and fantasy elements that demonstrate the ingenuity of this art form.
Here are some of the artists who have participated in this exhibition and the artwork that they have displayed:
Chris Cole
Chris Cole is a kinetic sculptor and abstract painter from Bend, Oregon. His sculptural works are heavily influenced by the industrial era machinery and aesthetics and often feature organic constructs in combination with complex mechanical structures. Some of the artwork featured by him in this exhibition include Bruce (2017), Robotarium (2017), etc. These complex structures are achieved by combining parts like a bicycle chain, bicycle cogs, bicycle hubs, bicycle derailleur pulley, bicycle dropouts, motorcycle timing chain, hand-cut and formed steel, salvaged steel, tea strainers, reclaimed door hinges, enamel paint, and other salvaged parts. You can view more steampunk kinetic sculptures on the artist's Instagram profile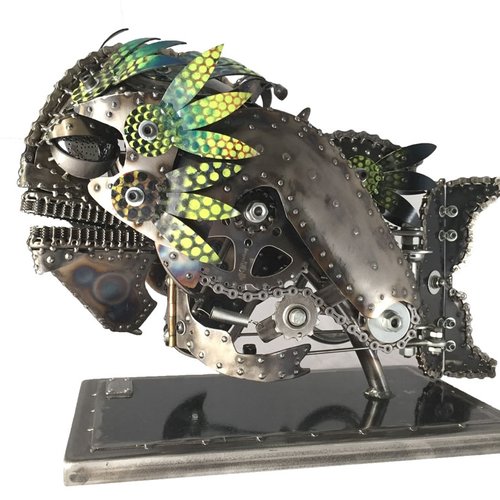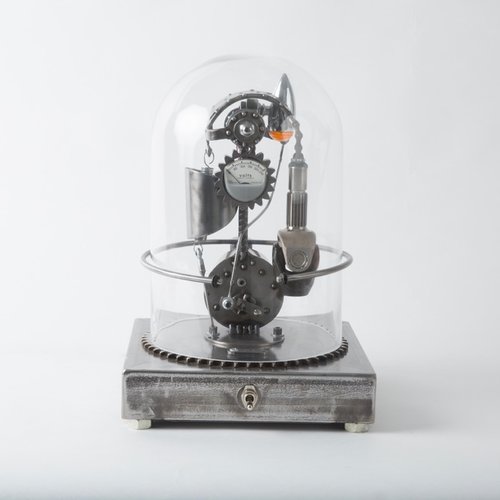 Steampunk Kinetic Art creator Ken Draim
Ken Draim is a kinetic artist based in Pittsburg, Pennsylvania, who earned his BFA in painting at Washington University in St Louis. He started his artistic journey from Paris and is greatly inspired by people experiencing his art come to life. He featured his kinetic art known as 'The Flying Machine(2015)' in this exhibition. It is a mixed media art with interactive moving parts. To know more about this artist and his works check out https://www.draimworks.com/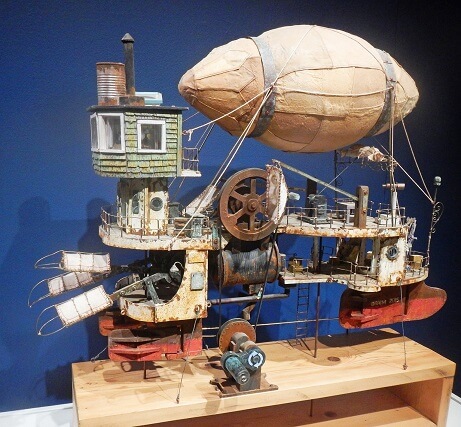 Steampunk Kinetic Art by David Bowmen
David Bowmen is another kinetic artist based in Pennsylvania. He is a self-taught artist and tinkerer who uses gears and sprockets, chains, brass, copper, steel, wood, and other repurposed materials in his art. The artwork displayed by him in the exhibition includes 'Tink, The Northern Pike, 2018', 'The Time machine, 2018' and 'Pterence, The Pteranodon, 2018'. These artworks are essentially made by using metal and wood.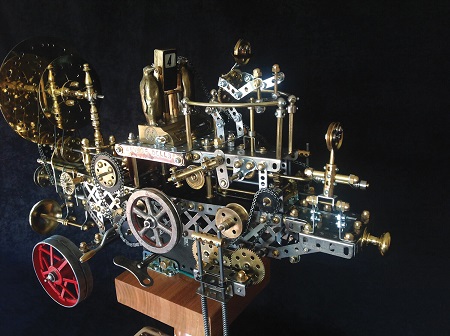 Steampunk Kinetic Art by Walter Rossi
Walter Rossi is an Italian kinetic artist who is based in New York. He has been pursuing kinetic arts since the 2000s and uses innovative techniques to animate toys by using magnetized motors. He featured some of his creations like 'The Buddha(2016)' and 'The Going(2014)' in the exhibition which was essentially made using metal and plastic.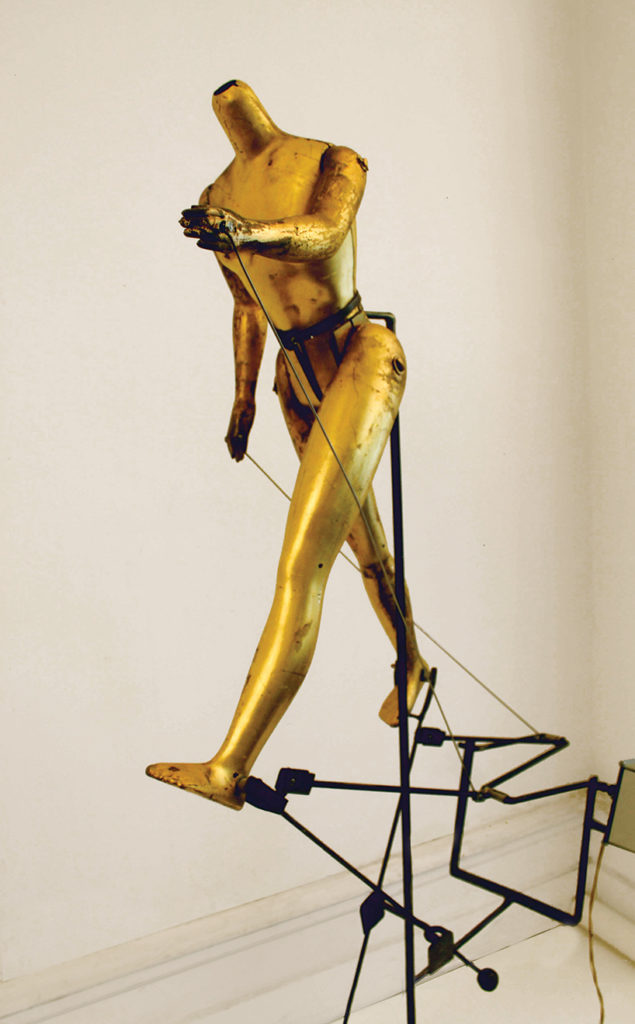 Steampunk Kinetic Art by Will Rockwell
William Rockwell is a New Jersey-based artist who is a recognized creative force in the design of Steampunk objects. All the artwork created by him can also be used as functional objects which include items such as USB sticks, steampunk lamps, and other functional and decorative items. He featured his famous work called the 'Lumia Series: Orion Lumia, Hubble Lumia & Messier Lumia(2018)' in this exhibition. This artist also offers his services and products for sale on the Etsy store.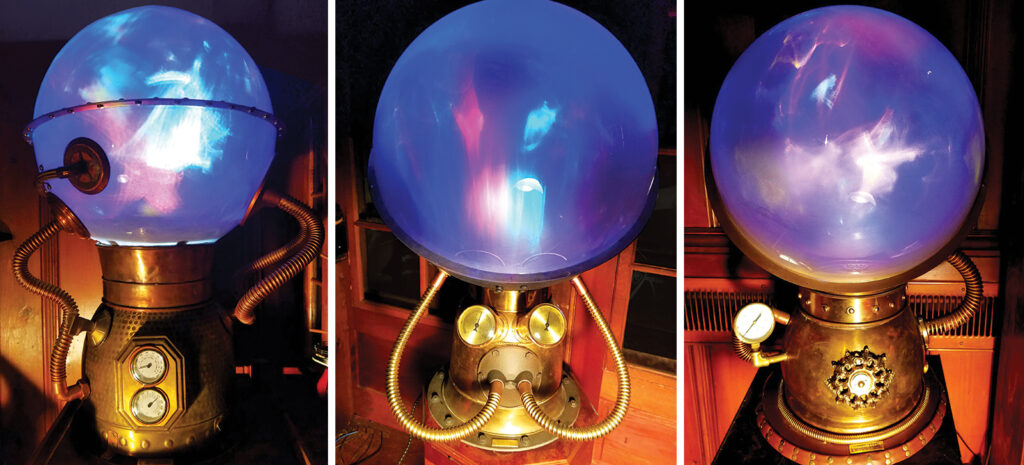 Kyle Dries
Kyle Dries is a multi-disciplinary artist who is known to create interactive kinetic sculptures, devices, and installations that have a wide variety of applications. He is inspired to create artwork that is powered by people's experiences and interactions. His artworks known as 'Celesta(2014)' and 'Transformation(1991)' were displayed in this exhibition.
Matthew Steinke
Matt Steinke is an American artist based in Austin, Texas His works are based on the interweaving of elements such as sculptures, sound, text, video, and robotics. The artwork featured by him in this exhibition includes 'Deliriums: Cluster C(2018)', 'Deliriums: Cluster B(2018)' and 'Deliriums: Cluster A(2018)'. To know more about this artist and his works check out https://www.matthewsteinke.com/
Kenneth MacBain
Kenneth MacBain is a contemporary studio jeweler whose work focuses on the inherent complexities of human relationships. His jewelry has been shown in more than 100 exhibitions in the United States and abroad. In this exhibition, he featured a 'Wedding Ring(2018)' which was designed using mixed metals.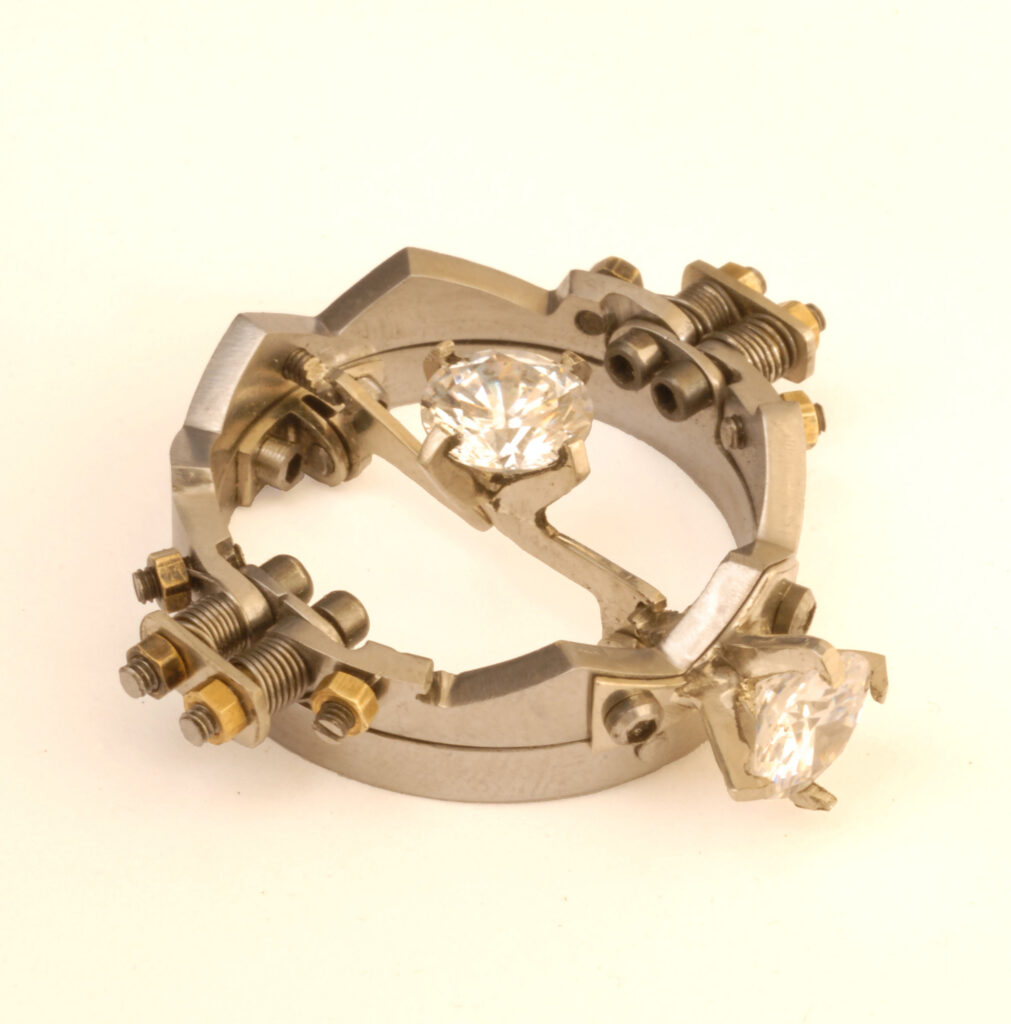 Mike Richison
Mike Richison is a multimedia artist who utilizes a variety of media and approaches that include graphic design, video, photography, sculpture, printmaking, drawing, custom electronics, custom software, and other installations. He is currently a professor at Monmouth University where he teaches Motion Graphics, History of Graphic Design, and Typography. His instrument called the 'Spin Stack(2017-2018)', was featured in the 'Simply Steampunk' Exhibition. To know more about this artist and his works check out https://www.mikerichison.com/index.html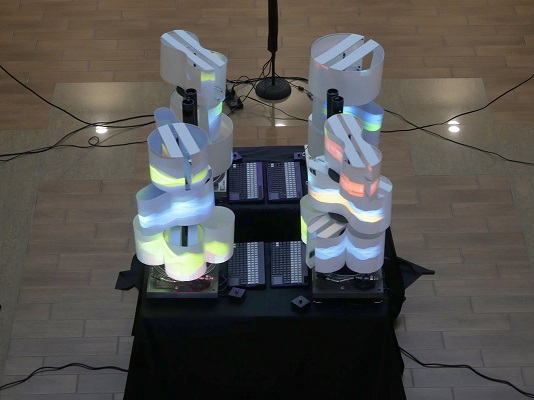 LoHifi Productions
LoHifi Productions is a combined project by Chris Little and Theo Pitsiavas which is based in Halifax. They have been creating artwork since 2009 and have been a part of crafting theatre, film, and performance art. Their artwork called 'Professor Ignatius and Assistants Flee the Citadel, 2018' was displayed in this exhibition.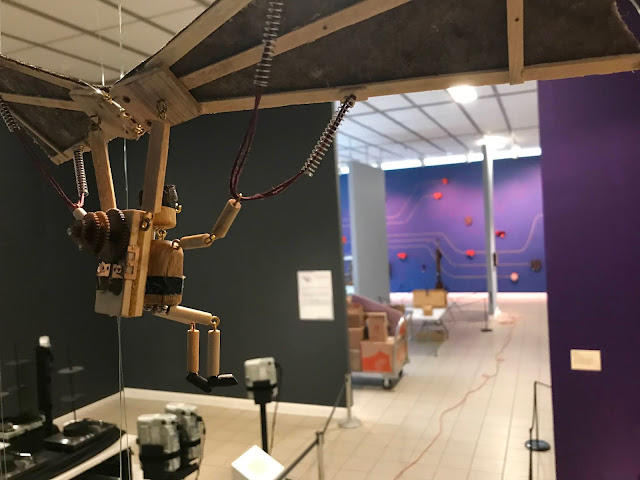 Bradley N. Litwin
Bradley N. Litwin is a Philadelphia-based, multidisciplinary artist. He is self-trained, and his career as an artist includes disciplines such as craft, manufacturing, multimedia production, music, and the fine arts. Today, he is known as a sculptor of kinetic automata, as well as a singer and guitarist. 'Steampunk Valentine(2018)' was the amazing artwork displayed by him at the 2019 Morris Museum Exhibition.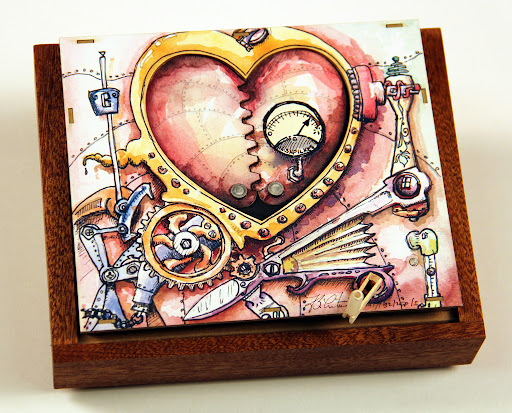 Enigma: A kinetic art steampunk cafe and bar
Enigma Cafe is considered by many to be the first kinetic steampunk cafe in the world. Alexandru Tohotan and Zoltan Zelenyak are the masterminds of this amazing steampunk kinetic cafe. This cafe is situated in Romania and the artists and their team are also responsible for designing other steampunk-themed works such as The Submarine and Joben Bistro.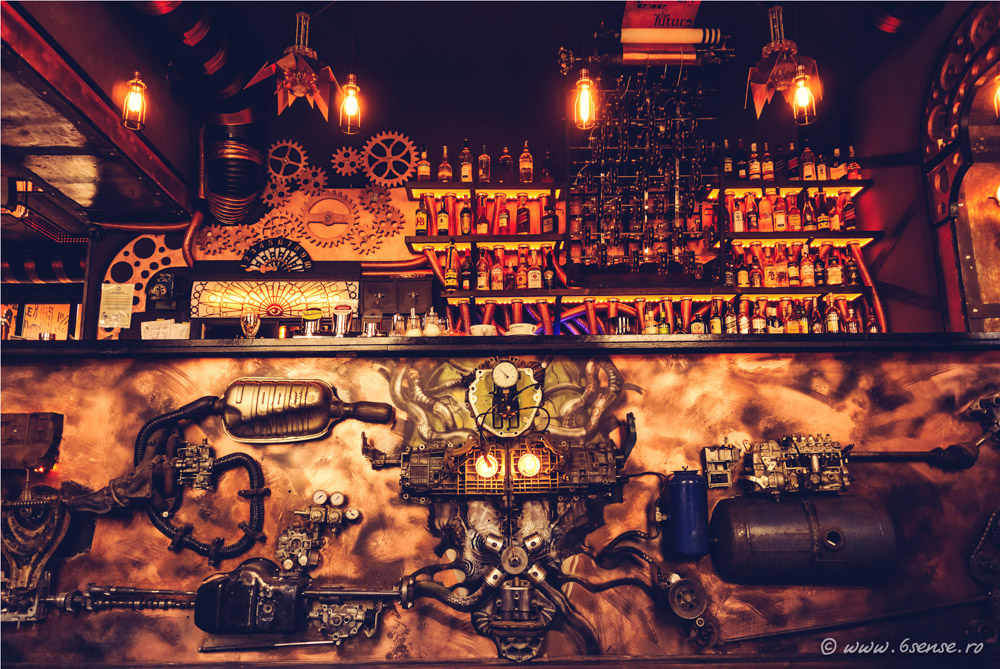 The Enigma Cafe from Cluj-Napoca is a unique cafe that is filled with steampunk elements like gears, skeleton clocks, rotating wheels, pressure gauges, metallic flowers, metallic robots, etc. The robot has a very unique design in that its legs are moving and it appears to be riding a bicycle which in turn powers the array of bulbs behind it. The cafe also features a huge clock which is designed and illuminated in such a way that it projects a three-dimensional view of the clock. The entire place is filled with innovative and amazing steampunk details. Most of the sculptures are interlinked in unique ways making this place a giant steampunk labyrinth. Check out this one-of-a-kind kinetic steampunk cafe.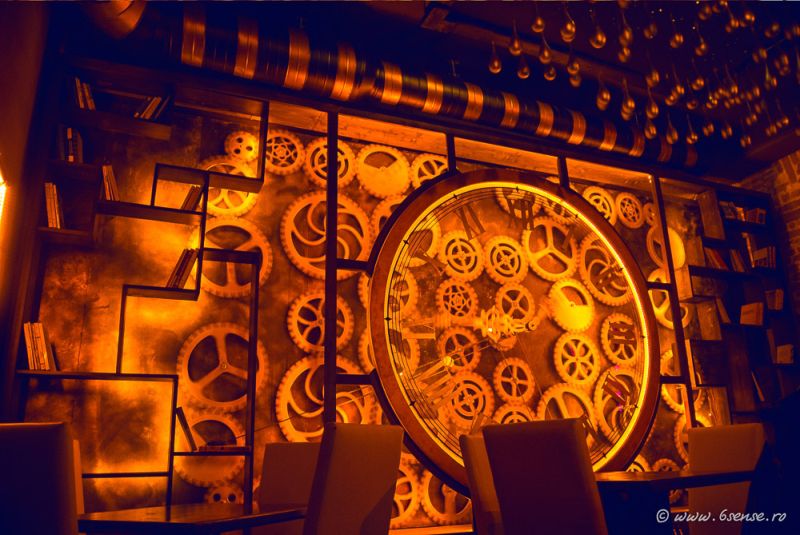 Get your own steampunk kinetic art
Here are a few amazing kinetic steampunk puzzles and DIY projects.
If you want to check some more kinetic steampunk DIY-related stuff, you can check here.