If you are looking to spice up your look for a steampunk-themed event or cosplay, or if you are someone who appreciates the art of steampunk, you are at the right place. A steampunk look cannot be complete without the essence of some steampunk accessories, so we have compiled a collection of the best and coolest steampunk accessories designed by various steampunk fanatics and artists from around the world.
Steampunk Messenger bag
A steampunk handbag is one of the first things that comes to our mind when thinking of some retro vintage steampunk accessories. These bags not only spice up the steampunk look but are also great to carry things around.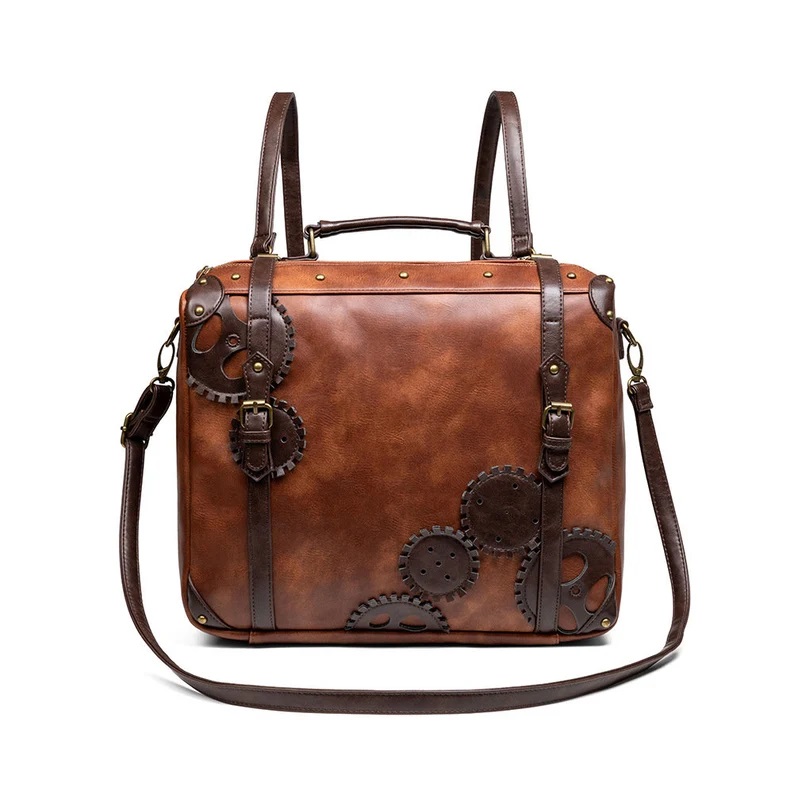 Here is one of the best designs we came across which is hand-made by an artist on Etsy. The artist has a few more retro designs in his collection which are definitely worth looking at. This bag can particularly be used as a multi-functional bag (handbag, single shoulder diagonal bag, double shoulder bag, etc.), with a large capacity. It can hold tablet computers, umbrellas, and other sundries.
Steampunk Accessories: Alchemy Belt with druid bottle holders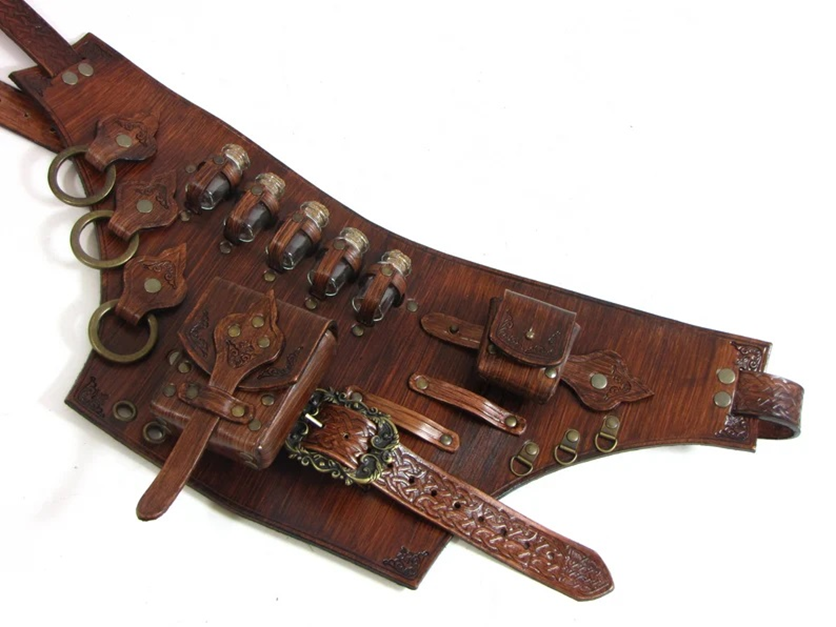 A steamy addition to your steampunk costume can be this alchemy belt with druid bottle holders. It is a handmade belt made with veg-tanned natural leather and decorated with metallic rivets which are mostly designed to be used as a fancy addition to a LARP costume. It can hold some LARP items but the purse is small, and glass bottles are tiny and impractical even though they look amazing. The design is created by a Polish artist and is available on Etsy in different colors and customizations.
Steampunk Accessories: Wrist Cuff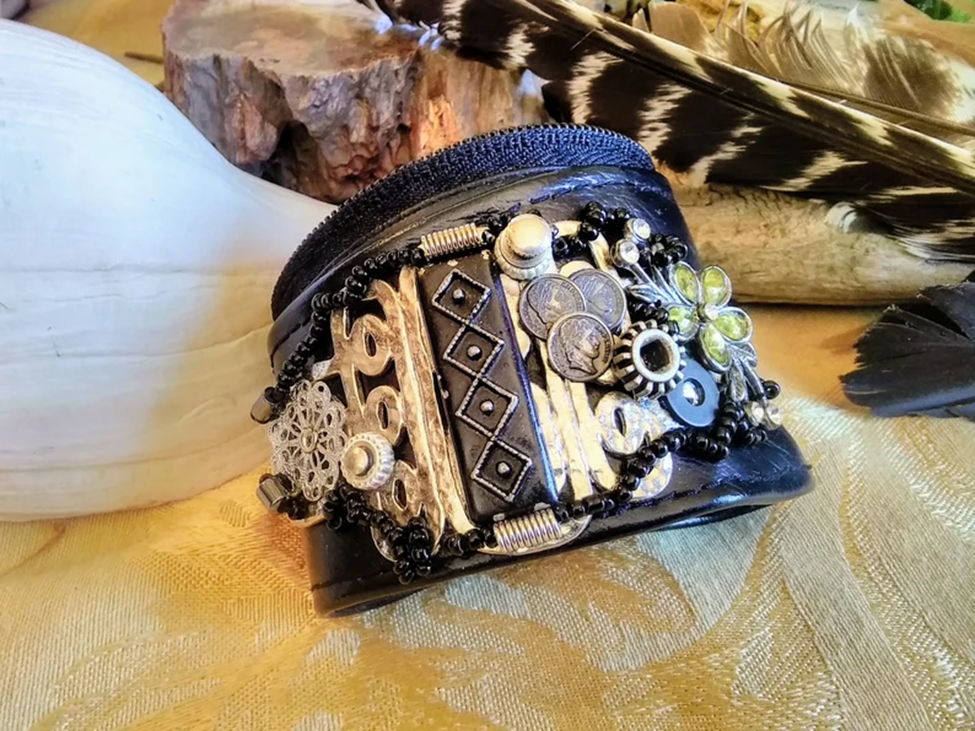 A steampunk cuff is definitely something that comes to mind when trying to achieve the looks of the Royal or the Elite of the Victorian Era. This is a one-of-a-kind handcrafted cuff that is made of repurposed vintage jewelry, vintage clasp, zipper embellished, faux leather with a cotton lining. Each piece was hand sewn with love.
Potion bottles holder attachable to belts
Sometimes there's no time to set up a full alchemist laboratory nor space to carry a big bag of equipment, or you don't have the time to search for them in the middle of a fight. Sometimes assassins might use strange poisons and a generic antidote isn't enough to solve that situation.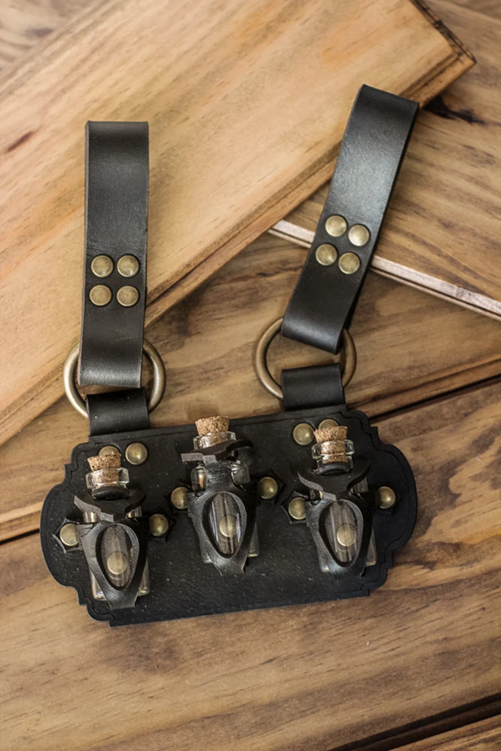 These belt potion holders are designed to complete the look for LARPs, alchemists, medics, doctors, or assassins. These pieces are quite versatile, so it is easy to keep using them on any character you take it with. It is made out of 100% natural leather with glass bottles that are safely secured in place thanks to our tight pattern so they do not fall down when you run or pass your acrobatic checks with them, but the bottles will come out swiftly at your fingers' command.
Large Crossbody Steampunk leather bag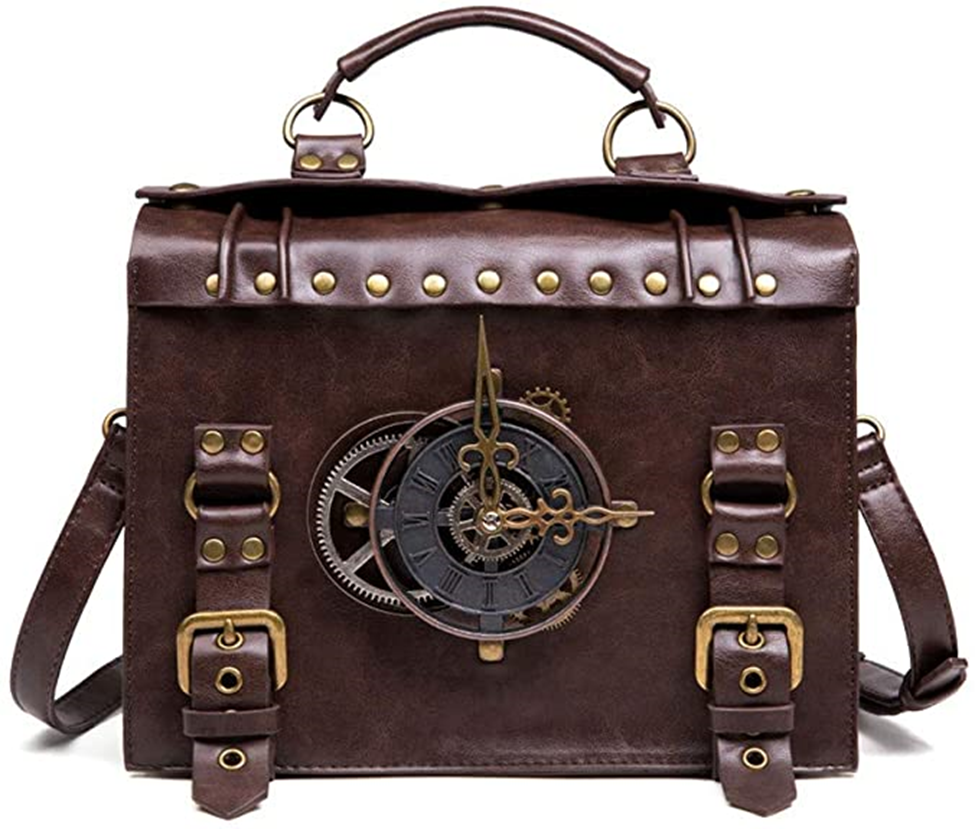 This is a premium quality leather bag made with durable and superior quality long-lasting leather which has disorderly wrinkles, scars, scratches that present the style of retro and wildness. It has flexible versatility as it comes along with an adjustable shoulder strap and shoulder drop. The bag has movable gear elements which make it a treat for the eyes of steampunk enthusiasts. Furthermore, the bag is very spacious and has two compartments. The main compartment accommodates tablets (Leather stretches with usage, initially it will be a snug fit). The other two compartments can be used for cards etc.
Steampunk Accessories: Captain's Nautical Gift Set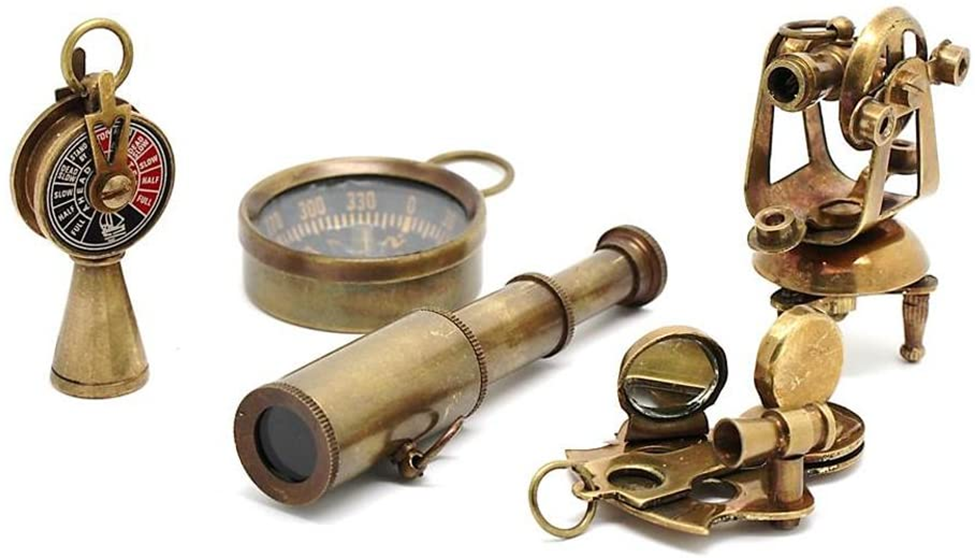 This is an Antiqued brass nautical miniatures gift set that includes 5 separate steampunk accessories i.e Telescope, Compass, Sextant, Telegraph, Theodolite. These are fully functioning quality reproductions of antique brass products used in olden times. It is a great imitation of vintage items. The collection of items can be used to accessorize any steampunk outfit, for Kids, Travelers, Adventure Enthusiasts. Furthermore, they are also a perfect decor option for a steampunk-themed office or study table.
Walking Cane Stick with Working Steam Engine Model
This is a collector's wooden walking steam which is elegantly designed with a working steam engine model. This is an antique product with a pressure range of compressed air/steam is 12:25 PSI. Its engine is a single cylinder oscillating type with 10 mm bore x 10 mm stroke. The walking consists of a high-quality brass handle and a stick that is made of solid hardwood. This walking stick is easy to move so you can carry it while traveling also. It can be a great gifting choice for elderly people on occasions like birthdays, anniversaries, retirement, etc.
Check out some amazing steampunk pocket watches here.
To check out some other amazing steampunk accessories click here.