Steampunk is considered a unique fantasy and science fiction subgenre that draws inspiration from the 19th-century industrial era. Steampunk designs combined with retro-futuristic aesthetics provide a doorway to creativity and imagination. This allows a creative person to access a much broader perspective with a fascination towards technology and progress and at the same time having a nostalgia for the past, reminiscing the simpler times. Over time this subgenre has turned into a worldwide phenomenon, evolving into a culture of its own finding its place in films, graphic novels, fashion, decor, and art (both mainstream and digital). Steampunk designs also have a certain uniqueness and individuality to their aesthetics which varies from artist to artist depending on their inspiration.
Some Common Motifs Found In Steampunk Designs
Thinking about steampunk often inspires a wildly imaginative world with far-fetched stories and gadgets that draw inspiration from the aesthetics of the industrial era. Swirling gears, gaslight, steam, and Neo-Victorian outfits are some of the more elements of steampunk, traces of which can be found in fashion, art, and even large-scale events and cosplays. Here are some of the most prominent motifs that can be found in steampunk designs.
Steam:
Steampunk designs are often based on a reality where more common sources of fuel such as oil and petroleum were not found and technology as we know it advanced in a way where the primary source of power is steam. A steam engine is the most common example of technology powered by steam. Since steampunk designs are solely based on the eye of their maker, steampunk artists often take the liberty to design objects or art with the idea of steam power in mind.
Aviation, Hot Air Balloons, and Blimps:
Hot air balloons and blimps, though not so common during the Industrial era, are considered to be a common mode of transport for steampunk enthusiasts in their fantastical stories and novels.
Goggles and Other Accessories:
Any steampunk persona created by an enthusiast always has a compelling story of being an adventurer, a pirate, or even an airship admiral. These compelling stories also require the outfit to go with the persona. Goggles, top hats, retrofuturistic weapons, and telescopes are all considered accessories that one can use to design their steampunk persona.
Gears, Cogs, Valves, and Moving Parts:
Gears, cogs, pulleys, and other moving mechanisms played a major role in developing technology during the Industrial era. Therefore, these are considered to be some of the most important parts while creating a steampunk design. They not only provide an aesthetic appeal to any steampunk design but can also be used to provide certain functions to your steampunk design.
Clockwork:
Clockworks with moving gears and parts were predominantly seen in use during the Industrial era and are often associated with the steampunk genre. Timepieces with visible moving parts and gears are often found to be part of steampunk designs.
Brass, Copper, and Muted Colors:
Steampunk designs are based on the machines, fashion, and inventions of the industrial era. Shades of rusted metal, brass, bronze, and copper are some of the most common colors associated with the genre and can be found on several steampunk designs.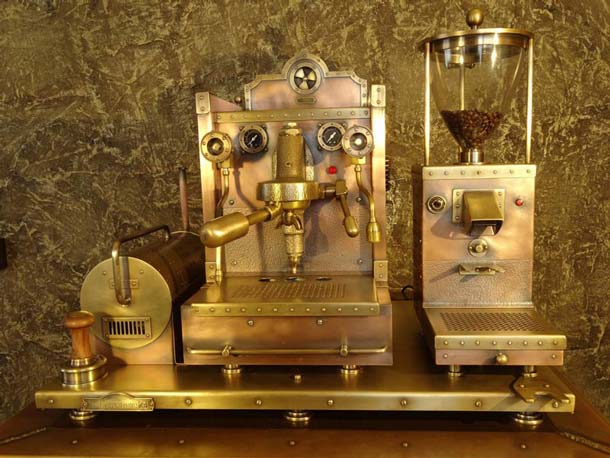 Inspiring Steampunk Designs and Artists
Steampunk is a big-tent democratic philosophy that draws influences from fantasy literature, Victorian science, and 19th-century spiritualism and artists often find a multitude of ways to incorporate steampunk designs into their daily lives. Many artists also believe that steampunk designs are a culmination of form, which focuses on the elegance of the design, and function, which focuses on the purpose of the design.
Steampunk designs whether it be decorative or utilitarian can find their place in most contemporary or traditional cultures. As the popularity of the genre grows people and cultures from all over the world have taken the liberty to combine steampunk with their own history in a way to reimagine a past, drawing inspiration from steampunk.
For artists like Mark Cordory, steampunk is all about invention and function wherein a creation should be put together in such a way that it looks functional. Mark Cordory is a designer & maker of costumes, props & puppets for TV, Film, Stage & LARP. You can check out his works on his Instagram profile by following this link. You can also check out his entire collection on his website here.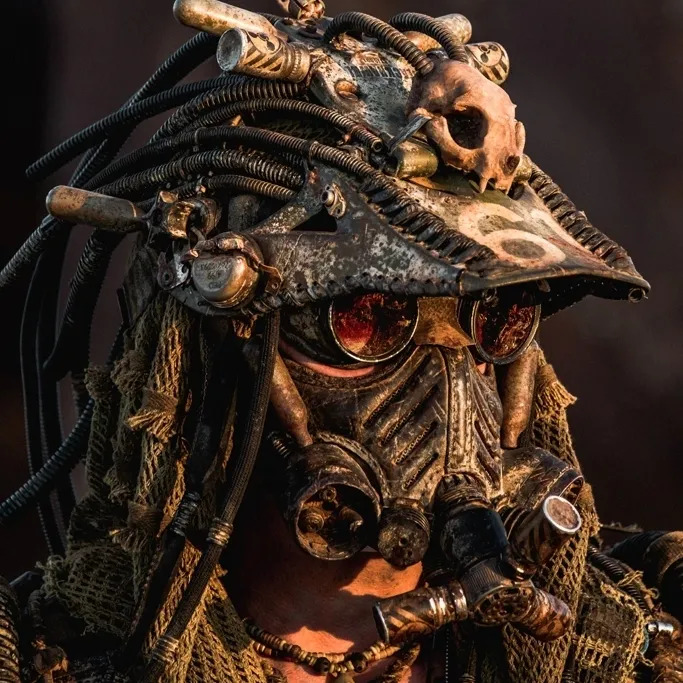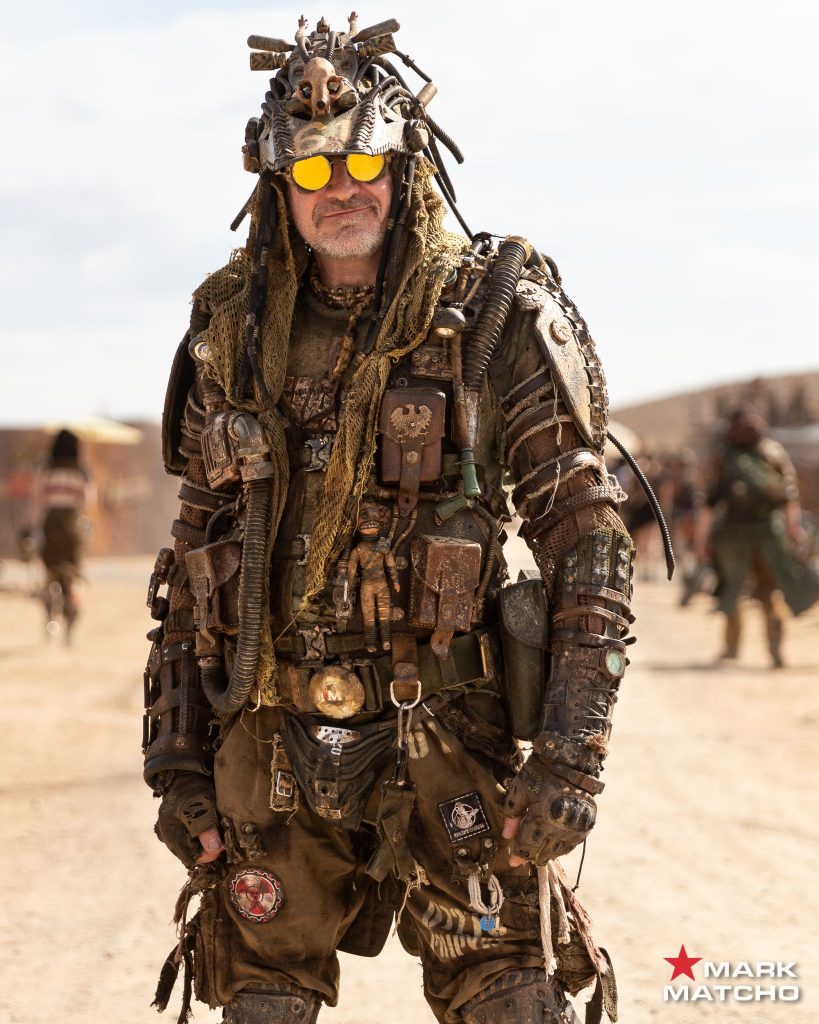 Artists like James Ng suggest that there should be limitations on the use of gears in steampunk designs. According to him each and every piece of art must have a function or a concept of a function for it to be labeled as steampunk. James Ng spent most of his childhood drawing monsters and robots and moving between the Eastern and Western worlds. James is mostly known for Imperial Steam & Light, his Chinese Steampunk series. He also has a wide range of styles that extend into fantasy, sci-fi, comic narratives, and even advertising. To find out more about this amazing steampunk artist click here.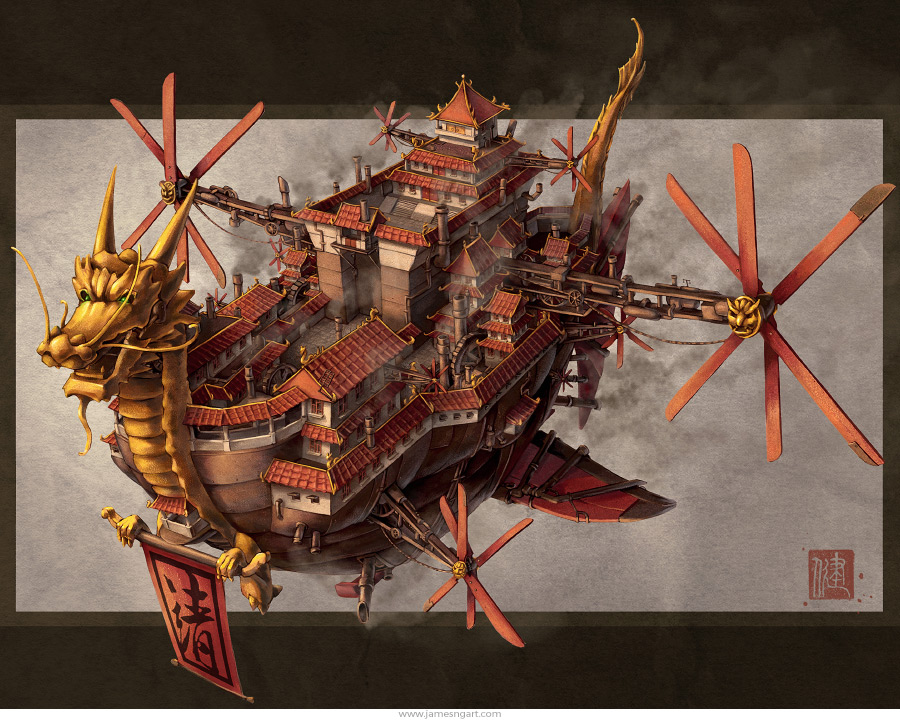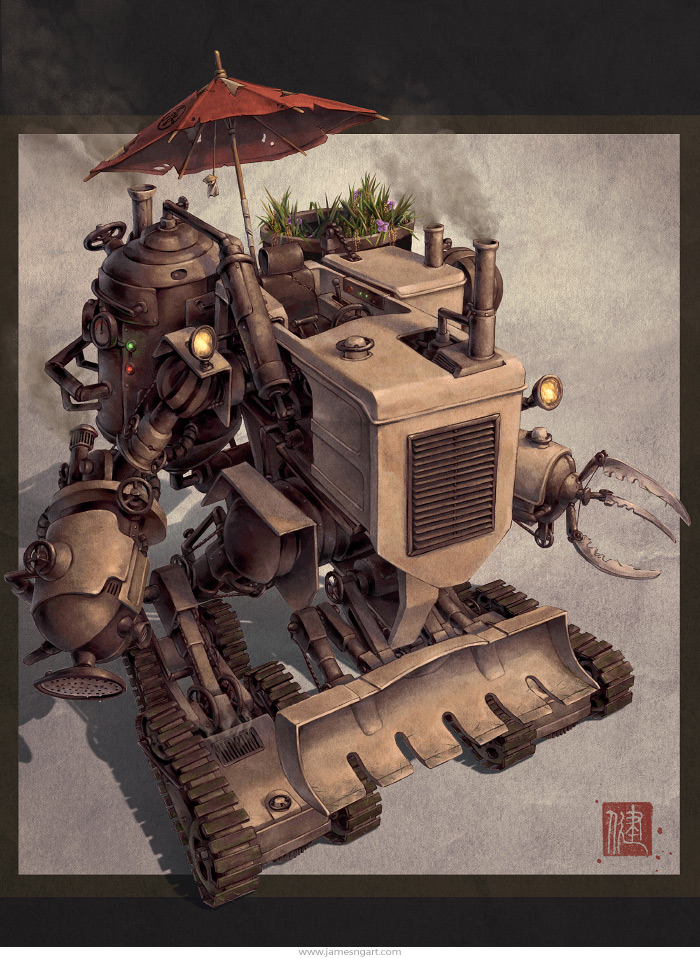 Thomas Willeford, Founder of the Brute Force Studio and author of the book 'The Steampunk Adventurer's Guide, also believes that creating a steampunk design is not as easy as slapping gears on objects and calling it steampunk. Considerable effort must be put to create a design that has functionality or a compelling concept of functionality. To find out more about this amazing steampunk artist click here.
Jake Von Slatt, Founder of the Steampunk Workshop, is a maker, tinkerer, fabricator, and all-around techno dilettante living and creating just outside of Boston, Massachusetts. Most of his work is based on combining the practical and the decorative. He draws influence from art and science to come up with some amazing designs.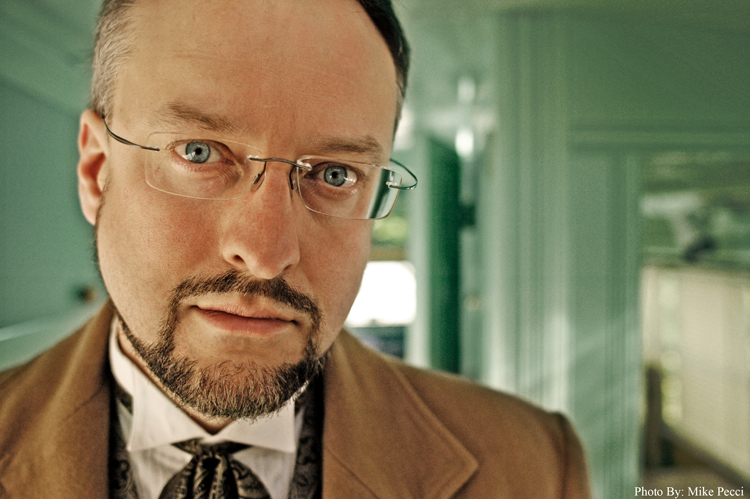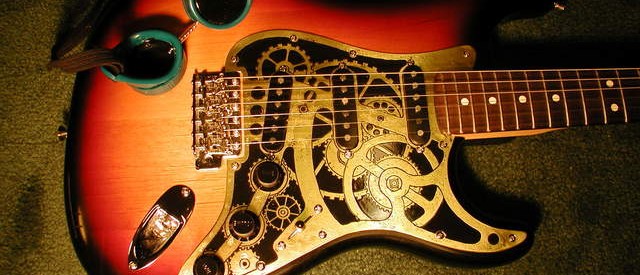 Artists like Ann Pedro are more inspired by the visual and decorative appeal of the steampunk genre. She started out as a jewelry designer and was fascinated by the idea of steampunk when she came across it. She has successfully created several pieces of jewelry inspired by the genre of steampunk. To know more about this amazing artist click here.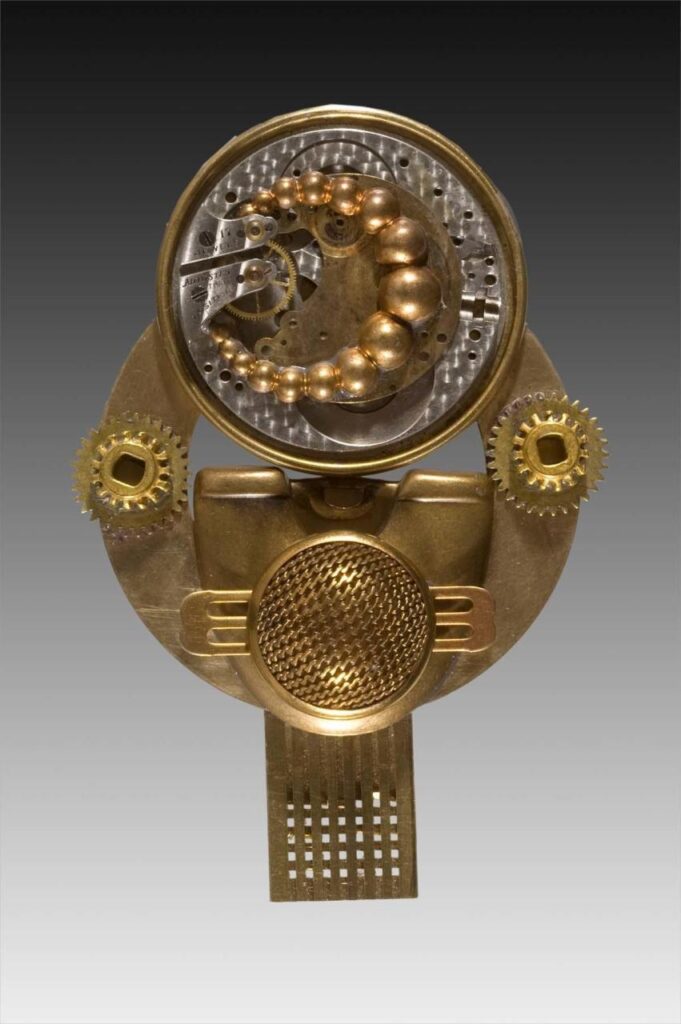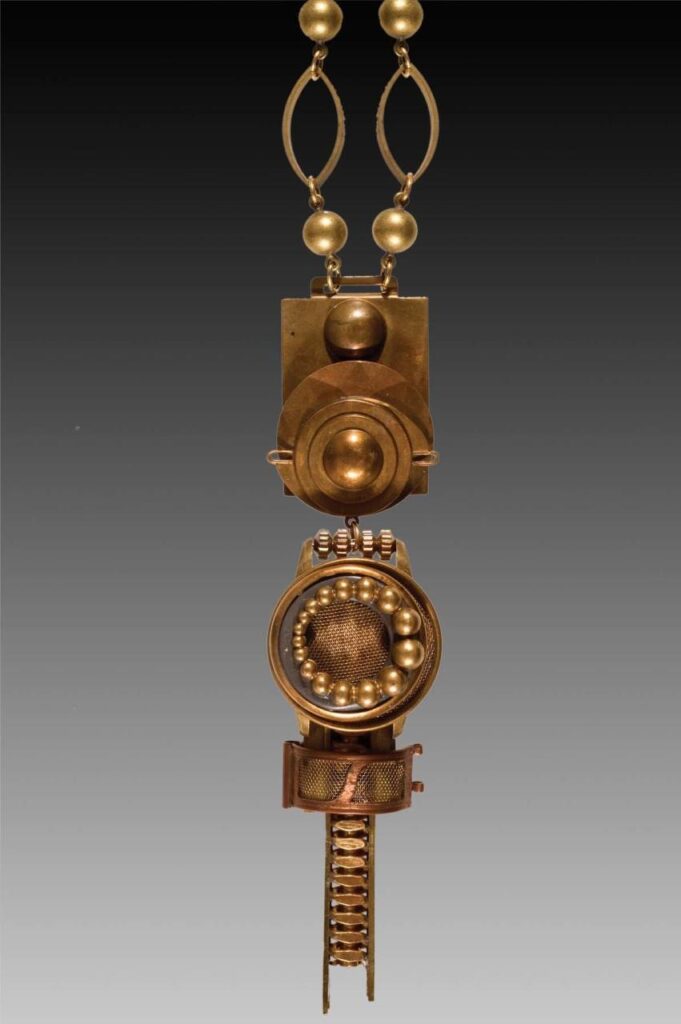 Another artist who likes the visual and decorative appeal of steampunk is Anna Dabrowska. Her interest varies from mixed media arts, scrapbooking, and art journalism. She also teaches mixed media arts as a freelancer all over the world. Her mixed media captures the elegance of the 19th-century Victorian era as well as the grittiness of the various industrial tools of that era. To know more about her you can follow this link.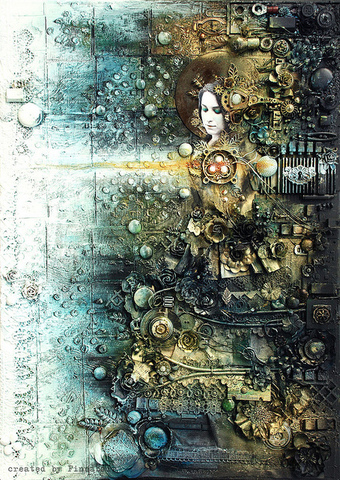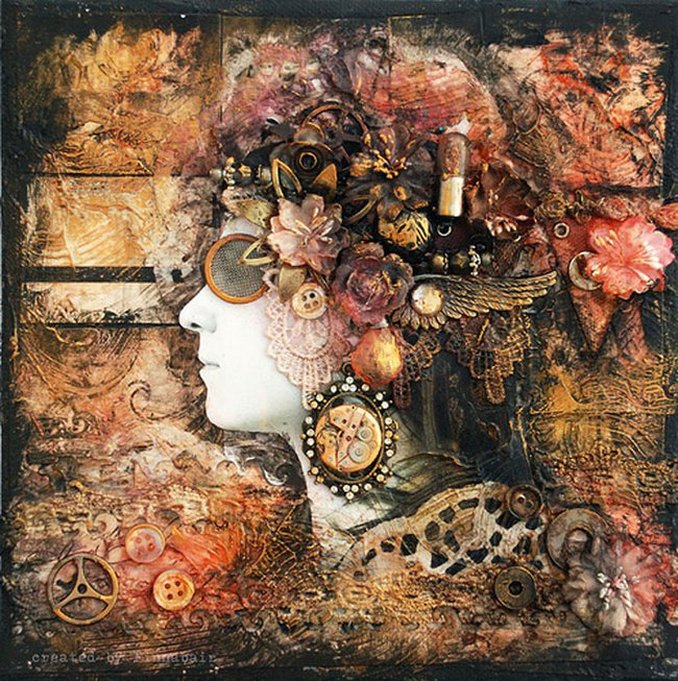 Steampunk and Kinetic Arts
Steampunk and kinetic sculptures are a combination of elements that allows people to express their art in the form of moving objects. Kinetic art is a way for steampunk artists to express themselves in the form of mobile, mechanical, and optical artworks. To read more about steampunk kinetic arts and designs click here.
Steampunk Designs for You
Here are some amazing steampunk designs that you can use in your homes. Each of these designs is hand-painted with great attention to detail. These designs feature some of the motifs that we discussed earlier such as gears, clockworks, timepieces, etc.
DIY Steampunk Designs
Most steampunk artists feel that the spirit of steampunk lies in the DIY nature of the genre. That is the reason why most steampunk designs are unique having some of the most intricate details. The joy of building a steampunk design from scratch is something that all steampunk fans want to experience. For this purpose, many artists have developed DIY projects that anyone can build in the comfort of their homes.
Here are some of the DIY steampunk designs that you can make from scratch.
If you would like to check out some more DIY steampunk designs, click here.